Pregnancy Success Stories
What Our Patients Say
We are PROUD of our patients and the progress they make while under our care. There's nothing we enjoy more than CELEBRATING our patients' successes along with them. And when there's something good happening in our lives, we feel inclined to share it with others, right?
Using personal stories to share the power of chiropractic with others is one of the most valuable tools our practice can use to encourage others to give chiropractic a try – a decision that can be life-changing! We love sharing pictures and stories of our patients in the interest of showing others that real people are getting great results here at Hanson Family Chiropractic.
Has Hanson Family Chiropractic made a difference in your life? We'd love to hear about it! Please share your story with us.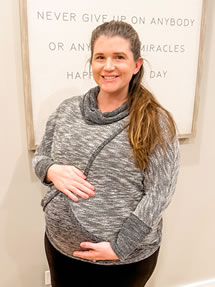 I Felt Welcomed and Cared For
During the first trimester of my pregnancy, I began experiencing severe sciatica pain and numbness in my leg; much worse and earlier than in my pervious pregnancy. The frequency of this pain made it challenging to stand, walk, or play with my toddler for more than 30 minutes at a time. I am celebrating another healthy (& pain-free) pregnancy! My chiropractic care has helped me stay in touch with my body's needs for rest, activity, and nourishment. This team is chick-fil-a friendly! Everyone truly embodies the family culture and makes me feel welcome and cared for. I look forward to every visit to HFC!
- E.M.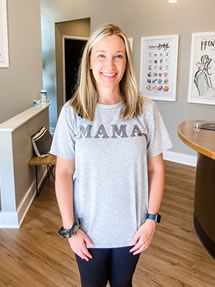 Family-friendly Practice
"I started chiropractic care for left hip pain that had been coming and going in previous years, and also to encourage my then breech baby to turn to a head down position. I tried stretching and saw another chiropractor with no relief. During my pregnancy my hip pain disappeared after starting chiropractic care. I also slept so great up until the day I delivered. I cannot say the same for my first pregnancy. My baby turned head down by 36 weeks and I had a very easy and uncomplicated delivery. Hanson Family Chiropractic is so family-friendly from the moment you walk in the door. I was always personally greeted with a smile. Huge bonus- I was able to bring my older daughter who could color and play while I was adjusted."
-L.S.
My Best Pregnancy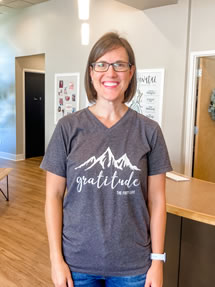 "I started chiropractic care when I was about 7 months pregnant with my 4th baby. I had sciatic nerve pain issues that started with my 1st pregnancy and occurred with each pregnancy. I just dealt with it the first 2 pregnancies, thinking it was just one of those ailments that happened during pregnancy and I was one of the unlucky ones to have to deal with it. Then I tried physical therapy during my 3rd pregnancy. It helped a little bit but the pain/discomfort was still present. It was also a time commitment to attend my 45-minute appointments and find a babysitter. I also switched from working 12-hour shifts to working 8-hour shifts, because my body couldn't handle the long days. I heard about Dr. Dave from a friend who had seen him during her pregnancy. Chiropractic care was never suggested by my physician and I knew it was out there but I had never really considered it as an option for myself. But I was desperate for something to help so I made the decision to try it.
"After starting to see Dr. Dave during my pregnancy, I can say with confidence that my 4th pregnancy was my BEST pregnancy! My sciatic pain was resolved! Before chiropractic care, I was struggling to keep up with the demands of being a mom to 3 active little boys, working part-time (12-hour nursing shifts), and being a wife. Seeking chiropractic care has helped me keep up with those demands with less pain and more energy. I was able to continue working my normal 12 hours shifts. I had many people complimenting me on how good I looked at the end of pregnancy, and I kept telling them that I FELT good and I attributed that to chiropractic care! I also had an uncomplicated induction/delivery. My only regret is that I didn't start seeing Dr. Dave sooner!
"The staff at Hanson Family Chiropractic is hands down, the absolute BEST! You are always greeted with a warm and genuine smile. They have fun celebrations and giveaways throughout the year. It is a family-friendly office and my kids love to play in the kids' area during my adjustment or love to grab an apple from the fruit basket on the way out. The staff has walked my baby around the office in the stroller if he's fussy during my adjustment. Dr. Dave is also the BEST! He is always smiling and happy, he's easy to talk to, and he's great with the kids. His passion is evident in all he does! You are treated like family here!"
-R.H.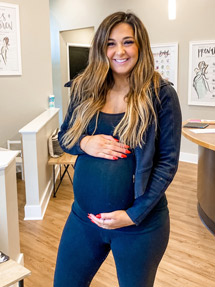 Highly Recommend
I started coming to Hanson Chiropractic once I reached 30 weeks pregnant and I couldn't say more amazing things about my experience! Dr. Hansonhas really helped me towards the end of my pregnancy, better sleep and all-over pain is so much more manageable! My only complaint is that I didn't start coming sooner! Highly recommend to anyone especially expecting mamas!
-M.T.
Greatly Contributed To An Easier Pregnancy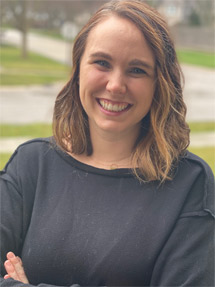 "I originally came to Hanson Chiropractic to help with back pain during my first pregnancy. Dr. Hanson not only helped minimize the pain, but he connected me with other professionals to help me recover from my c-section and rebuild my core! I continued chiropractic care postpartum and through my second pregnancy. The second pregnancy was very similar to the first with one noticeable difference- no back pain! I believe chiropractic throughout my entire pregnancy greatly contributed to an easier pregnancy. Chiropractic care helps me stay healthy and when I do start to feel ill, keeps me from getting worse. I've never entered such a warm and welcoming doctor's office. The design is very soothing and the thoughtfully designed play area makes it easy to bring my kids and still relax during my adjustment. I cannot say enough wonderful things about the staff- they always greet you with a smile on their faces and show genuine care about you and your family."
- A.W.
The Entire Team Is Truly Amazing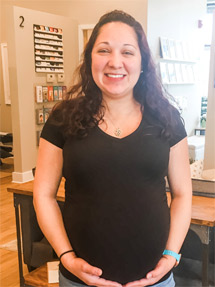 "I initially started going to Hanson Family Chiropractic because I was feeling overly uncomfortable during my pregnancy. I have always had hip and neck problems for as long as I can remember. I basically learned to walk with what I thought was misaligned hips, which caused numerous problems for my legs and knees. I was a 17 year old 'losing out' on her competitive running career because of my knee. Never did I think seeing a chiropractor would actually help, so I never went. It wasn't until my cousin suggested chiropractic care during my pregnancy enabled me to see how my hip, leg, and knee problems had gotten worse. I can honestly say, I am beyond upset with how long I waited to receive chiropractic care!
My hips were completely out of line. I had guessed that this was my problem for years and years and that was confirmed after the first scans I received. It's truly amazing how after just one month not only do I feel like walking and moving is easier, I was also able to see the corrections made during my second scan. It wasn't just made up in my head! I'm moving and walking better because my hips are truly moving towards alignment! The amount of stress it has taken off my body is miraculous! Even those who look at me have mentioned seeing it in my face saying, 'you just LOOK so much better.' The fact that realigning my hips has been beneficial for my entire body just adds to me wondering why I waited so long to do this!
The entire team at Hanson Family Chiropractic is truly amazing. Everyone is always so happy and bubbly when you're there. You can't help but catch their happiness the moment you walk through the door. They truly make you feel like a part of the family. Every time I go in, the conversations pick up from the ones we had at my previous appointments. They care about you, your life, and how you're feeling. It's not a place that just wants your business, they care! I always look forward to my next appointments, not just because the chiropractic care is helping, but because of how welcoming everyone is. The only plus in waiting 15+ years to get chiropractic care was that waiting meant I would be introduced to this amazing team at Hanson Family Chiropractic!"
- L.V
I No Longer Need Pain Medication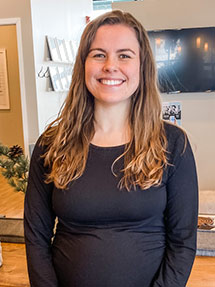 I started chiropractic care because I was experiencing daily headaches and lots of back pain. I was taking over-the-counter pain medicine every day. I found out I was pregnant and decided it was time to do something about all of the pain I was in. I had a very uncomfortable pregnancy with my daughter, and I wanted to be more comfortable and healthy this time around! Since I've started getting adjusted, I no longer experience daily headaches or back pain! I no longer need to take pain medication, and overall I feel a lot healthier and more prepared to have my baby! I am also sleeping better at night, which is a huge bonus. The whole team at Hanson Family Chiropractic is amazing! They are all extremely friendly, and they remember things about my life that I've told them and make sure to follow up with me about how things are going. Dr. Dave makes you feel very comfortable, and overall the environment is just great!
-L.W.
I Can Take Care of my Kids Without any Pain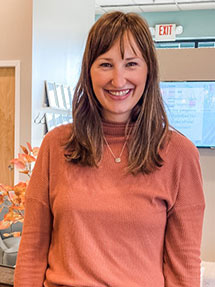 I started chiropractic care when I was 7 months pregnant with my second baby. I was interested in the Webster technique as my first unmedicated labor was extremely long and unpleasant, to say the least. I wanted to be more proactive in preparing for this labor in hopes that it would be more enjoyable, faster, and less "painful". However, I was also having really bad lower back pain and was having to wear a pregnancy support band daily but I was still having pain, and obviously, the bands are not that
comfortable to wear in the first place. That back pain made it difficult to stand for long periods of time and affected how I interacted and played with my then 2-year-old at the time.
Not recent, but my second (unmedicated) labor and delivery was a dream and I credit some of that to the chiropractic care I received prior to giving birth. I continue to celebrate how my lower back pain has been kept at bay (first from being pregnant and then from carrying around 2 babies)! I'm able to play with and take care of my kids without any pain. It went from being on my mind constantly to a thing of the past!
Dr. Dave and the entire team at Hanson Chiropractic are amazing. Everyone is genuinely so incredibly friendly and kind. Everyone takes the time to get to know you and to even just ask about your day. They really make you feel like family. I can't recommend this place enough!
-J.L.
Atmosphere Radiates Joy, Calm, and Warmth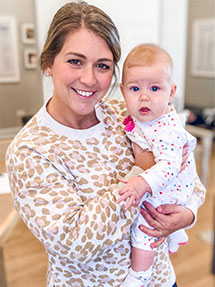 I have been seeing Dr. Hanson for a little over a year now. I first came to him with terrible migraines that prohibited me from functioning in my day-to-day life. I was tired of not having the ability to be present with my 2 young children and constantly taking medication to be able to manage my day. I knew I needed to fix this problem. Shortly after seeing Dr. Hanson for a few chiropractic sessions I found out I was pregnant with my third baby! Soon I was not only getting adjusted to eliminate my migraines, but I was also seeking relief from typical pregnancy aches and pains, nausea, and exhaustion.
It was not an immediate fix, however, over time and with consistency, I can say I am no longer experiencing any migraines. Which is not something I have been able to say for over six years. I can also say that even though this was my third pregnancy I felt great throughout the entire nine months and had a safe and healthy delivery.
Everyone working here is wonderful. The atmosphere radiates joy, calm, and warmth. It's hard not to leave feeling encouraged and uplifted. I would recommend Hanson Family Chiropractic to anyone, as chiropractic care is an essential part of healing and maintaining health.
-A.C.
So Welcoming & Joyful!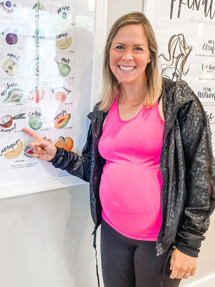 I got pregnant with our third baby and started immediately having sciatica pain and insomnia. I've had a pretty healthy lifestyle before getting chiropractic help but I knew if I didn't get it taken care of early, it would only get worse. 3 months into my treatment and I already sleep better and I've had no sciatic nerve pain since starting! Every week as I feel my body pulling apart gradually, I'm so happy I get to be aligned so I'm not walking around like a grandma every day. Dr. Hanson and his team are WONDERFUL! The girls at the front are genuinely kind and hospitable. Basically, I want to be their friends outside of my weekly chiropractic care because they're so welcoming and joyful. Dr. Hanson is a calming presence and is so kind and knowledgeable. I'm so thankful I found you guys!"
-A.F.
Dr. Hanson Is Amazing!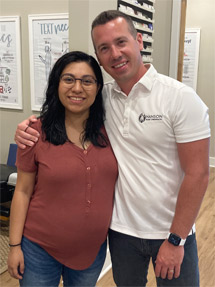 I started chiropractic care because I'm pregnant and I was dealing with a lot of round ligament pain as well as other pains that are associated with pregnancy. My anxiety was so high, I wasn't sleeping well, and I was having a hard time taking care of my toddler because it felt like my body wasn't working how it should be. Around 20 weeks pregnant it had gotten so bad that I realized I need to find help with this. Since getting adjusted at Hanson Family Chiropractic I have had less round ligament pain, less anxiety, and overall I am much more comfortable this pregnancy! Everyone there is amazing and so friendly, they are so helpful with getting my appointments scheduled and make sure they work around my schedule. Dr. Hanson is amazing! We can joke and have a really good conversation. He is so gentle whenever he adjusts me. I cannot say enough good things about everyone in this office! I'm so happy I found it just in time to prepare my body to have my second baby.
-J.S.
A Better Mom, Nurse, and Wife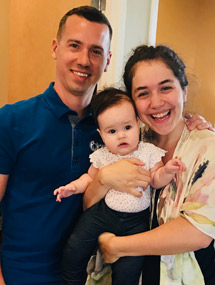 I came to HFC because I was having some troublesome sciatic pain during my pregnancy. It was beginning to seriously affect my ability to care for patients at work (I'm an emergency nurse) and I was concerned about how it was shaping my pregnancy in terms of staying active and sleeping well.
I tried plenty of other tactics! Stretching, braces, and plenty of visits to my OB to try and solve the problem. I was offered medications but I didn't feel like taking them because I was concerned they may affect my daughter. It was exhausting to feel like less than myself on top of already balancing a pregnancy.
Goodness, I felt such a wave of relief. I truly don't mind pain when I know I'm working towards a solution, and was so excited to see one on the horizon! I began feeling better when my OB had told me that the issue would only worsen during the pregnancy as I grew. I was so thankful to have stepped out and taken what felt like a risk to me to discover that in fact, I was safe and so was my baby.
I can happily run around to care for both my daughter and husband, as well as my acutely ill patients in my ER. I occasionally get a slight twinge of pain once a week instead of what had become a constant source of pain awake and asleep. I've also noticed improvements in my sleep. What was a huge blessing though was the change in headaches that I had, which I didn't even attempt to address through chiro treatments but certainly improved regardless. I'm a better mama, nurse, and wife.
-L.C.

Pregnancy Success Stories for Hanson Family Chiropractic | (630) 230-6416