Pregnancy Success Stories
What Our Patients Say
We are PROUD of our patients and the progress they make while under our care. There's nothing we enjoy more than CELEBRATING our patients' successes along with them. And when there's something good happening in our lives, we feel inclined to share it with others, right?
Using personal stories to share the power of chiropractic with others is one of the most valuable tools our practice can use to encourage others to give chiropractic a try – a decision that can be life-changing! We love sharing pictures and stories of our patients in the interest of showing others that real people are getting great results here at Hanson Family Chiropractic.
Has Hanson Family Chiropractic made a difference in your life? We'd love to hear about it! Please share your story with us.

So Welcoming & Joyful!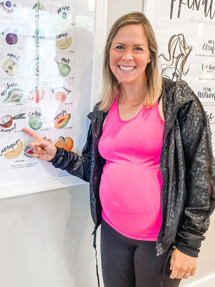 I got pregnant with our third baby and started immediately having sciatica pain and insomnia. I've had a pretty healthy lifestyle before getting chiropractic help but I knew if I didn't get it taken care of early, it would only get worse. 3 months into my treatment and I already sleep better and I've had no sciatic nerve pain since starting! Every week as I feel my body pulling apart gradually, I'm so happy I get to be aligned so I'm not walking around like a grandma every day. Dr. Hanson and his team are WONDERFUL! The girls at the front are genuinely kind and hospitable. Basically, I want to be their friends outside of my weekly chiropractic care because they're so welcoming and joyful. Dr. Hanson is a calming presence and is so kind and knowledgeable. I'm so thankful I found you guys!"
-A.F
Dr. Hanson Is Amazing!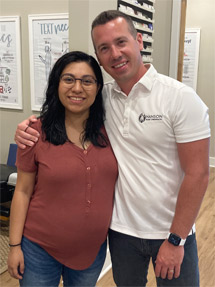 I started chiropractic care because I'm pregnant and I was dealing with a lot of round ligament pain as well as other pains that are associated with pregnancy. My anxiety was so high, I wasn't sleeping well, and I was having a hard time taking care of my toddler because it felt like my body wasn't working how it should be. Around 20 weeks pregnant it had gotten so bad that I realized I need to find help with this. Since getting adjusted at Hanson Family Chiropractic I have had less round ligament pain, less anxiety, and overall I am much more comfortable this pregnancy! Everyone there is amazing and so friendly, they are so helpful with getting my appointments scheduled and make sure they work around my schedule. Dr. Hanson is amazing! We can joke and have a really good conversation. He is so gentle whenever he adjusts me. I cannot say enough good things about everyone in this office! I'm so happy I found it just in time to prepare my body to have my second baby.
-J.S.
A Better Mom, Nurse, and Wife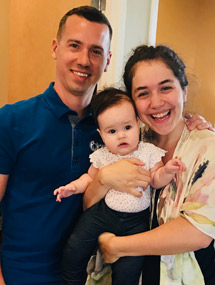 I came to HFC because I was having some troublesome sciatic pain during my pregnancy. It was beginning to seriously affect my ability to care for patients at work (I'm an emergency nurse) and I was concerned about how it was shaping my pregnancy in terms of staying active and sleeping well.
I tried plenty of other tactics! Stretching, braces, and plenty of visits to my OB to try and solve the problem. I was offered medications but I didn't feel like taking them because I was concerned they may affect my daughter. It was exhausting to feel like less than myself on top of already balancing a pregnancy.
Goodness, I felt such a wave of relief. I truly don't mind pain when I know I'm working towards a solution, and was so excited to see one on the horizon! I began feeling better when my OB had told me that the issue would only worsen during the pregnancy as I grew. I was so thankful to have stepped out and taken what felt like a risk to me to discover that in fact, I was safe and so was my baby.
I can happily run around to care for both my daughter and husband, as well as my acutely ill patients in my ER. I occasionally get a slight twinge of pain once a week instead of what had become a constant source of pain awake and asleep. I've also noticed improvements in my sleep. What was a huge blessing though was the change in headaches that I had, which I didn't even attempt to address through chiro treatments but certainly improved regardless. I'm a better mama, nurse, and wife.
-L.C.
Back Pain Dramatically Decreased!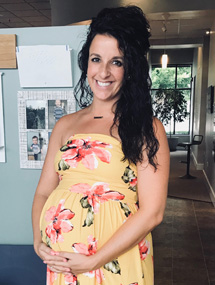 At around 5 1/2 months of being pregnant, I started to experience a lot of back pain daytime and night. No matter what I did, no matter what position I tried to sit or lay in, I could not get comfy and the pain would not go away! This back pain led to many sleepless nights, causing a very cranky lady. At my initial 1st visit it was apparent that the entire tribe truly was committed to my treatment and wanted nothing but a healthy and comfy pregnancy for me. At each visit, I feel so welcome and listened to by every member. Soon after my first few visits, my back pain dramatically decreased. It was such a relief to know that my pregnancy did not have to be uncomfortable and I can enjoy it without back pain. At 9 months pregnant now, I have very little back pain! When the pain is there, after an adjustment it almost immediately goes away! Without the pain, I have been able to keep on with my workout routines, my sleeping hasn't been disrupted by pain, and I have been able to enjoy my pregnancy to its fullest!
-K.D.
Highly recommend chiropractic care during pregnancy!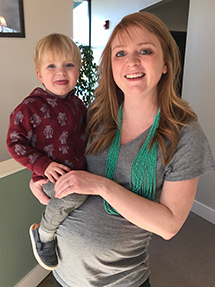 My husband Robby and I became pregnant with Baby Beard #2 in August and had been receiving chiropractic care for well over a year and a half prior to this milestone. I continued to receive chiropractic care throughout my pregnancy and do not know how I survived pregnancy #1 without it!
Overall, this pregnancy has been healthier and much more pleasant! The chiropractic care relieved my back pain, and helped tremendously with my posture! I have also had so much more energy to keep up with my three year old! Chiropractic care also provided so much more room for Baby Beard's activities – I felt movement much earlier-on in this pregnancy and he continues to move more than ever (he's a dancing machine)!
Dr. Dave mentioned that the chiropractic care will provide better positioning for birth, as well as a better labor and birth – since my spine and hips are in proper alignment, which is a relief to hear! Overall, I would highly recommend chiropractic care during pregnancy – less back pain, more energy, more room for baby's activities, and proper alignment … You can't go wrong!
-L.B.
Love our visits!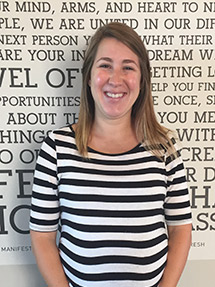 "I came back to Dr. Dave as soon as I found out I was pregnant again. I saw him during my second pregnancy and felt so much better than I did during my first pregnancy because of the regular chiropractic care I received.
During this pregnancy, visiting Dr. Dave has helped alleviate and lessen the pain I feel in my lower back and hips along with fixing upper back troubles I get from chasing two toddlers around. He has also been able to fix a few ribs quickly and painlessly, that like to come out of place thanks to this pregnancy. I can immediately breath and move better after each adjustment!
We love our visits to Dr. Dave's! My two boys receive such patience and love from the staff who listen to the never-ending stories from my 4-year old and 2-yr old. Dr. Dave shows such a passion and commitment to the care he provides.I recommend him to everyone I know who could use a little chiropractic love :)
-J.H.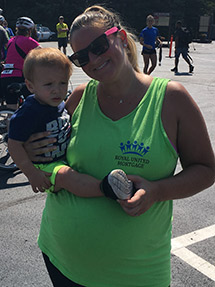 Literally Changed My Life
I cannot say thank you enough to Dr. Dave and the Tribe at Hanson Chiropractic! You all have literally changed my life.
My two pregnancies have been worlds different! With my first I had a hard time walking. I was constantly sore, couldn't sleep and had constant tingling in my arm. With this pregnancy I rode a 12 Mile bike ride at 34 weeks pregnant to help support the Cystic Fibrosis Foundation. My back doesn't hurt, I sleep through the night and my arm doesn't have the weird tingly feeling. I am all together a happier pregnant momma!
Everyone is so nice and inviting and I truly look forward to getting adjusted. I have recommended Chiropractic care to practically everyone I come in contact with. I am forever grateful and forever a tribe member! Thank you again to the entire crew at Hanson Chiropractic!
-C.T.
Amazing Atmosphere and A Plethora of Knowledge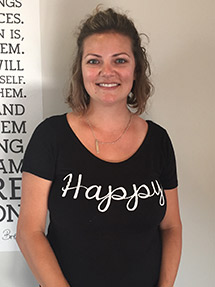 I came to Dr. Dave for a breech pregnancy causing sciatica pain at 27 weeks pregnant. Additionally, I was struggling with gestational diabetes for the second time. I also have a very physical job that caused my middle back pain between my shoulder blades. Sciatica pain was worst when walking too much or sitting for a period of time then standing. This affected my life with rest being the main priority instead of getting involved with too many activities or getting normal chores done. I have tried lifestyle changes like supplements, but I needed more physical help.
I achieved more energy and relief instantly after my adjustment. I have delivered my second baby remaining medication free for the gestational diabetes. I delivered her much quicker than my first and vaginally. I only had seven minutes of pushing and my water broke naturally six days early. I also have appreciated using healthier options to fuel my body.
Dr. Dave is really calm, professional and friendly. I definitely feel his care for each and every person he comes in contact with. The girls at the desk are amazingly accommodating and friendly. They are bright and cheery and always a pleasure to walk into. There's an amazing atmosphere and a plethora of knowledge shared amongst all those cared for by HFC crew.
-C.W.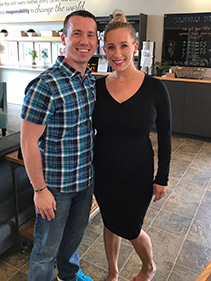 Relief from My Pregnancy Symptoms
I originally came in for severe tension headaches due to pregnancy. I had no idea Dr. Dave would also relieve me of my horrible nausea, insomnia, and general stress that I had at 14 weeks pregnant. I wasn't enjoying pregnancy and my body was exhausted. My tension headaches disappeared following care and I was able to get off my anti-nausea meds and sleep! My scans showed significant relief from stress. All while still growing and working on my feet. This entire group of people actually cares about you! I always feel welcome. I feel blessed to have found this tribe. I can't wait to bring my little guy here in August.
-L.G.
SI Joint Pain Relief During Pregnancy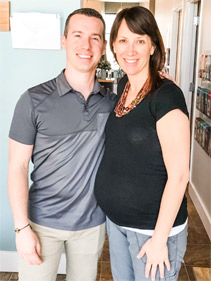 I started chiro care a couple years ago but have come back to it because I am pregnant with number 3. I had very bad SI joint pain with my last pregnancy and wanted to avoid it this time around!! I also have both my kids (4 and 2 yrs. old.) doing regular chiro care for general health and well being.
My SI joint is flaring a bit this pregnancy, but chiro care has made it SO MUCH BETTER!! I can feel it, but it's not constant pain, it's not keeping me awake at night, I can keep living life! I've also noticed that I don't have any other pains – lower back, etc, as my pregnancy progresses :) My kids have been healthy through this icky season!! We've only had mild colds and they have been able to bounce back so fast!!
I love that HFC really makes you feel like family! My kids love it there. In the beginning my daughter was very shy and hesitant, but everyone being so friendly and caring – now she loves going!! I truly feel cared for more than just my chiro care!!
-V.J.
Holistic, Natural Treatment During Pregnancy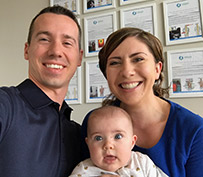 "I started chiropractic care while pregnant with my first child. I had a lot of back pain due to an ever growing belly! I was determined to work up until I was in labor, but teaching was getting harder and harder. I am happy to say I taught a full day at school the day I went into labor!
Being pregnant, medications were not an option for me. I was determined to get holistic, natural treatment for the sake of my baby.
My biggest milestone was the birth of my happy, healthy daughter! Labor and delivery were uneventful, and my recovery was as to be expected-no doubt thanks to Dr. Dave!
My daughter Claire and I love coming to see Dr. Dave! He was great while I was pregnant with her, and sees her now still at 4 months old. She and I have greatly benefited from her chiropractic care! Dr. Dave and his staff are so FLEXIBLE with appointments. With a brand new baby, this has been invaluable! I'm so grateful that last minute appointment changes always work out and my daughter and I can make sure we stay on a healthy track!
- E.P.
Conceived Right Away and Had an Easy Pregnancy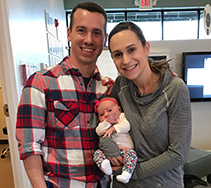 "I started chiro care 8 months ago because I had chronic headaches and a lot of lower back pain. I was always popping Ibuprofen to fight the pain and discomfort. The back pain affected my sleep and the headaches affected my ability to be my best at work. There were days I had trouble getting out of bed because I consistently would wake with a headache….
Since seeing Dr. Dave I can not even tell you the last time I had a headache… let alone pop a painkiller! I know it has been more than a year!
I believe chiro care helped me get pregnant right away. In March 2016 I was told that I was going to have a difficult time conceiving…. and I was pregnant in April 2016 (proved them wrong!). I saw Dr. Dave through the entire pregnancy and, I believe, because of this, all of the aches and pains people expect throughout pregnancy did not affect me. I never struggled sleeping, I did not have any pelvic discomfort, I do not have any back pain until the very end of the pregnancy, I was able to work out at the gym and work (on my feet all day) until the day my water broke!
The team at Hanson Family Chiropractic is just amazing! I, honestly, have never met a group of nicer individuals. They put their patients first and are truly devoted to the well being of everyone who walks into the office. The Hanson Family Chiropractic environment is like one you do not come across often! I have nothing but positive things to say about the Hanson Family Chiro Staff! <3 "
-C.W.
Hopeful for a Healthy and Uneventful Pregnancy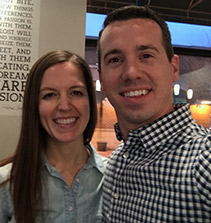 "I have struggled with back pain most of my life as a result of sports, bad posture and an abnormal curvature of my spine. By the time I started seeing Dr. Dave I couldn't lay flat on my back at all and sleeping was painful and uncomfortable. I've also struggled with infertility and my first pregnancy after IVF was very unhealthy and my son was born with a lot of problems.
After seeing Dr. Dave my back pain has cleared up quickly. We also did another round of IVF, got pregnant easily and so far no issues. I'm hopeful this will continue to be a healthy and uneventful pregnancy under Dr. Dave's care.
Dr. Dave and his tribe are like family. They are caring, positive and always greet me at the door with a smile. They hold my son while I get adjusted and share in our joys and progress. I love everything about each one of them."
-C.O.
Dr. Dave has been the first person to congratulate my pregnancy milestones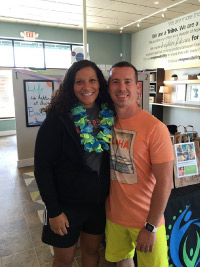 "I was referred to Dr. Dave by a friend who heard me talking about all of my 'weird' health concerns. I felt like every conversation I had about my health started with describing symptoms that just didn't fit 'the norm'. I talked with my primary care physician and endocrinologist about just feeling 'off' in multiple systems and trying to find some answers. My endocrinologist tried to adjust my thyroid medication for Grave's Disease and my primary care physician only treated symptoms that were associated with specific conditions such as sinus infections and vertigo. I spent about 6 months dealing with symptoms such as infections, dizziness, fatigue, weight fluctuation, and frustration with conceiving.
I have always been an athlete and have been very in touch with how my body feels and responds to the demands that I place on it. My greatest concern was just losing touch with my body and not understanding why or what to do about it. Dr. Dave was the first person to look at my concerns, my symptoms, my scans, and my 'weird' and tell me it made sense and that he had a plan.
About one month after I started with Dr. Dave my husband and I found out we were expecting. My symptoms of dizziness, fatigue, and neck pain all resolved within 6 weeks of care. My scans matched the improvements I was feeling, even with the changes my body was experiencing during my first trimester. I have not had a cold or infection or any major health concerns in the past 6 months. My thyroid medication dose has been the same (even with a pregnancy!), and that hasn't been something that has been consistent for me more than 3 months in a row without a dosage change in 4 years!
It has been seamless to transition from treating my original health concerns to following me through pre-natal and maintenance chiropractic care weekly, allowing me to feel my best every week. Dr. Dave has been the first person to congratulate my pregnancy milestones, and the family atmosphere at Hanson Family Chiropractic is something I feel with every visit and every time I call."
-L.T.
Joint Pain Relief During Pregnancy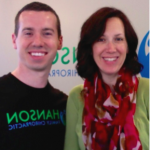 "I was eight months pregnant and experiencing SI joint pain. I was in so much pain, walking was difficult, sleeping was difficult and I couldn't carry my seventeen month old. Immediately I felt better—mentally trusting in Dr. Dave and knowing that my pain would get better over time. And within two weeks the pain was pretty much gone! It's been day and night from the day I first came in to now. I can walk, carry my daughter, sleep well—I feel prepared to deliver baby #2 without worrying about leg pain!
There isn't anything I don't like about HFC! Dr. Dave and Kristen are both so warm and inviting. You practically feel like family the minute you walk in the door. I love the open atmosphere of the office and all the resources that are available. Even though I haven't been able to attend a workshop, it's been wonderful to have the YouTube links and I'm looking forward to attending one soon. I would recommend HFC to friends and family, and I already have! I tell everyone I know who's looking for chiro care about HFC. I also tell people who are just interested in a healthier lifestyle and especially mamas about the different workshops. Thank you! I'm so grateful for the care I've received—truly it is an answered prayer! I'm looking forward to a long relationship between HFC and my family."
-V.J.
Uncomfortable Hip Pain During Pregnancy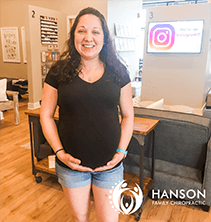 "I initially started going to Hanson Family Chiropractic because I was feeling overly uncomfortable during my pregnancy. I have always had hip and neck problems for as long as I can remember. I basically learned to walk with what I thought was misaligned hips, which caused numerous problems for my legs and knees. I was a 17 year old "losing out" on her competitive running career because of my knee. Never did I think seeing a chiropractor would actually help, so I never went. It wasn't until my cousin suggested chiropractic care during my pregnancy enabled me to see how my hip, leg, and knee problems had gotten worse. I can honestly say, I am beyond upset with how long I waited to receive chiropractic care!
My hips were completely out of line. I had guessed that this was my problem for years and years and that was confirmed after the first scans I received. It's truly amazing how after just one month not only do I feel like walking and moving is easier, I was also able to see the corrections made during my second scan. It wasn't just made up in my head! I'm moving and walking better because my hips are truly moving towards alignment! The amount of stress it has taken off my body is miraculous! Even those who look at me have mentioned seeing it in my face saying, "you just LOOK so much better". The fact that realigning my hips has been beneficial for my entire body just adds to me wondering why I waited so long to do this!
The entire team at Hanson Family Chiropractic is truly amazing. Everyone is always so happy and bubbly when you're there. You can't help but catch their happiness the moment you walk through the door. They truly make you feel like a part of the family. Every time I go in, the conversations pick up from the ones we had at my previous appointments. They care about you, your life, and how you're feeling. It's not a place that just wants your business, they care! I always look forward to my next appointments, not just because the chiropractic care is helping, but because of how welcoming everyone is. The only plus in waiting 15+ years to get chiropractic care was that waiting meant I would be introduced to
this amazing team at Hanson Family Chiropractic!!"
-L.V.
I Feel Confident
"I'm really enjoying Dr. Dave and his office! I feel confident, he will help my body get ready for the arrival of our baby in May!"
-R.K.

Pregnancy Success Stories for Hanson Family Chiropractic | (630) 230-6416