What to Expect
Your First Visit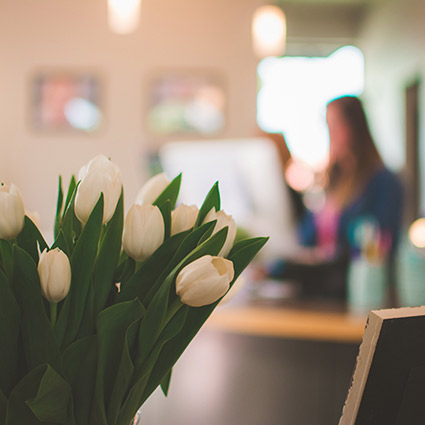 When you arrive at our office, you'll be greeted with a big smile and welcomed as a member of our family. Immediately, you'll feel like we've been waiting to see you all day, and it's true! We'll give you a tour of the office to ensure you feel comfortable, relaxed, and right at home.
New Patient Forms
Before your first visit, we ask that you complete your new patient paperwork in full. This paperwork provides us with your health history and other pertinent medical information.
ONLINE FORMS »

Your Consultation
You'll sit down with Dr. Dave for a detailed discussion about what's causing your health related concerns. The purpose of this visit is to learn more about you, your expectations and how chiropractic can help you reach your health goals and find true healing.
A Comprehensive Examination
Dr. Dave and his team will conduct a thorough chiropractic examination to determine if there is evidence of vertebral subluxations (neurological/spinal stress). We will gather all the information needed to ensure we are able to help you!
Our state of the art exam suite is equipped with the Insight Millennium Scanning Unit. This technology gives Dr. Dave the most comprehensive look at how the master control system in your body is functioning (nervous system). Not only is Dr. Dave able to determine if he can help you, with this technology he is able to accurately measure your progress along the way. Hands down, this is the most important scan you will ever receive in our office. We ask that you plan on spending about 45 minutes with us for your initial visit.
Your Second Visit
In between your first and second visit, Dr. Hanson will take time to look over your scan results and health history to create a customized care plan for you. On your second visit, Dr. Hanson will share his recommendations for care with you and answer any question you might have. This care plan will give you a blueprint on how we can achieve your health goals based on your individual needs. At the conclusion of this report, many are eager to get started. Most patients receive their first chiropractic adjustment that day, and you can, too! Other patients would like to discuss financial options with their spouse which we completely understand and respect.
You're On Your Way
This is our favorite part! Once you've seen your results and given Dr. Hanson the green light to start care, you'll receive your first adjustment. Yes! The doctor will walk you through each step of the way making sure you feel comfortable. The front desk team will help you schedule out your care plan. You're now a part of our family we call the HFC Tribe. You'll be surrounded by some truly inspirational people from your very own community, some of which you'll be surprised to find out you already know while others you'll meet for the very first time. At Hanson Family Chiropractic, expect to be treated like family at every visit. Call (630) 230-6416 and schedule your first appointment. We're excited to meet you!

What to Expect at Hanson Family Chiropractic | (630) 230-6416