Pediatric Chiropractic at
Hanson Family Chiropractic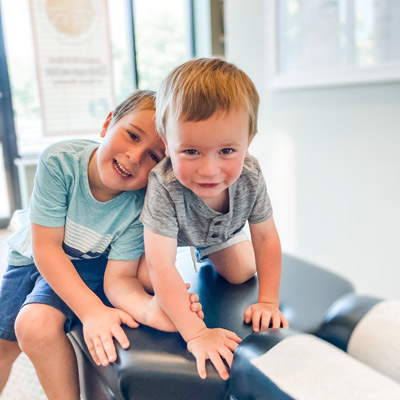 In today's world, kids are going to the doctor, getting medications or getting labeled by a diagnosis and being treated differently because of who they are. We want all kids to grow up happy, healthy and enjoy their childhood. Every child deserves that, but so many aren't getting it.
At Hanson Family Chiropractic, we want to make a positive impact on your family. With a focus on pediatric chiropractic, we can make sure your kids stay well now and in the future.
Why We Love Pediatric Chiropractic
When Dr. Hanson was in chiropractic school, he never imagined that he would want to focus on pediatric chiropractic. It was an experience on a student mission trip to Nicaragua that changed it all for him. He examined a baby who had gone through a rough birth and wasn't latching. Dr. Hanson checked her reflexes and found, to his dismay, that there were none. This baby was starving and in bad shape.
Since the most vulnerable part of the baby during the birthing process is the neck, he started with checking there—and found a misalignment in the upper bone of the neck. The correction looked simple, using just the pressure of Dr. Hanson's pinky on the baby's neck. Immediately, the baby started crying. Dr. Hanson handed the baby back to Mom, who wanted to feed her baby. This time, the baby latched perfectly and had his first great meal.
Since then, Dr. Hanson has decided to make pediatric chiropractic an area of emphasis in his practice. With millions of children in the world suffering from chronic health issues, he knew that applying the chiropractic adjustment could bring countless kids back to life. He has undertaken extensive studies with the International Chiropractic Pediatric Association to learn how to keep our children healthy. When you come into the office, you'll see a picture of that baby in Nicaragua, which serves as our reminder of why we do what we do.
Some of our sensory kiddos or children on the spectrum have a tough time sitting through a process like a consultation. If that's the case, Dr. Hanson will be happy to complete the consultation over the phone. Then, when your child comes into the office, we'll do their scans right away. Please know that we don't expect your child to be anything but themselves here. Our entire staff is great with kids. They have a play area and can feel comfortable knowing that we'll accommodate them.
If your child is older, they may feel intimidated by the idea of visiting our office. We'll talk directly to them, not over them. It's important to make chiropractic fun, so we'll discuss how it gives them superpowers! We make them two promises: one, that nothing will hurt, and two, that they're going to have fun.
During their adjustment, they can even sit on Mom or Dad's lap. Dr. Dave is an expert in making funny faces if they need a distraction. We'll work with them to make everything go as smoothly as possible.
We'll always adapt what we do to your child's age. For a baby, the pressure of a pinky is used, no more than you'd require to touch your eye. A baby will usually sleep right through their adjustment. The response tends to be swift, too, since the condition hasn't been present for long and their little bodies are more than ready to accept the correction.
Learn More Today
Contact our team now to discuss how your kids can benefit from pediatric chiropractic Batavia!
CONTACT US »

Pediatric Chiropractor Batavia, Geneva and St. Charles IL | (630) 230-6416