Baby & Toddler Success Stories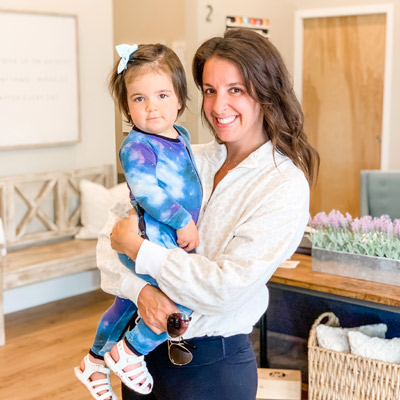 What Our Patients and Their Families Say
We are PROUD of our patients and the progress they make while under our care. There's nothing we enjoy more than CELEBRATING our patients' successes along with them. And when there's something good happening in our lives, we feel inclined to share it with others, right?
Using personal stories to share the power of chiropractic with others is one of the most valuable tools our practice can use to encourage others to give chiropractic a try – a decision that can be life-changing! We love sharing pictures and stories of our patients in the interest of showing others that real people are getting great results here at Hanson Family Chiropractic.
Has Hanson Family Chiropractic made a difference in your life? We'd love to hear about it! Please share your story with us.

They are AWESOME!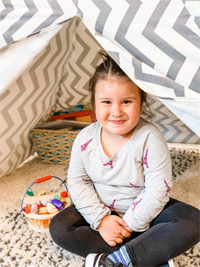 Atztlali had a spiral fracture in one leg and then a buckle fracture in the other leg. This caused her to not be able to walk properly and she was always limping and in pain. She was not a normal 3-year-old child after her legs being fractured. Atztlali was not able to run or play with her brothers or kids for too long. We consulted with her physician and she did therapy after her fractures. We were told that she would grow out of it, but we knew something was wrong. Fortunately, with our visit to Taylor (Dad's chiropractor), he was able to give us the recommendation to Hanson Family Chiropractor which changed our little one's life around. Atztlali is much more happier she can run, walk, and jump without complaining of pain. Limping is gone. She is a very active child. They are AWESOME! Dr. Dave Hanson and the girls do a great job explaining everything. They are very kind they always greet everyone with a very warm welcome. It is very family-oriented. I can't thank them enough for everything they do.
They are a great team they make you feel like family.
-M.T.
Colic and Reflux Are Gone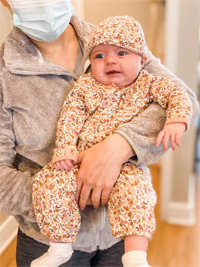 My Daughter started seeing Dr. Dave Hanson at 2 months old. I was desperate for help and would try anything to give my daughter Callie some relief. The poor thing had Colic and Reflux. She was always miserable and feedings felt impossible because she had so much discomfort from her acid reflux. When I got a call back from Natasha she was so sweet and got me in right away. After the first adjustment, I saw an improvement that night. She would cry from 5:00 pm -8:00 pm and those evening hours would be so hard. To my surprise, she cried much less and it was such a relief. Being first-time parents with a colicky baby was so stressful and I am so thankful for the Hanson Family Team. My daughter stopped crying during her feedings and they became more enjoyable. I also was able to sleep my baby flat in a bassinet. For 3 months she could only sleep in her bouncer due to her reflux. Callie just hit 4.5 months old and her colic and reflux are gone. We love Dr. Hanson and his team and will continue to get her adjusted.
-S.T.
Chiropractic Care Has Solved The Problem!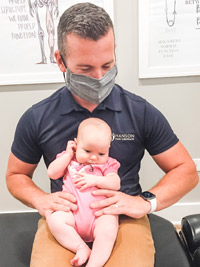 I started my infant on chiropractic care because she was nursing differently on the left side than on the right side. I was having pain nursing her, and I'd heard that when there's a difference between the sides, often chiropractic care can help. She was also often nursing with her shoulders raised up towards her ears. We had already gotten her tongue tie and lip tie released and were also in feeding therapy. I'm happy to report that chiropractic care has solved the problem! I no longer have pain while nursing,and no discrepancies between sides. Her shoulders are also much more relaxed when nursing. Dr. Dave was great- very sensitive to my concerns, and very gentle with and responsive to my baby. The front desk staff was always welcoming and friendly. The office is impeccably clean, bright, and stylishly decorated.
-E.B.
Couldn't Be Happier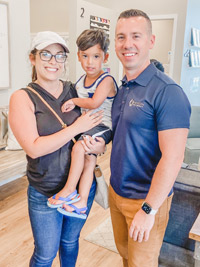 "When my son started walking at the age of one and a half, I noticed that he was off balance. I also noticed that he hardly used his right arm for anything, and he had a minimal range of motion with that arm. As he got older (currently two and a half), nothing seemed to change for him. In fact, it appeared to be getting worse. I also noticed that my his tonsils were on the larger side and that he snored at night.
After being referred to Dr. Hanson, I couldn't be happier with the changes that I am seeing in my son. He has been getting his adjustments for the past month, and I am already celebrating the small things! He gradually stopped snoring at night. That was the first change that I was encouraged by. My son's confidence is rising as he tries to use his right arm more often. He'll look at me as he rotates his right arm and participates in little exercises that we do together and he'll say, "Look mom! The doctor fixed me!" His smile is everything to me. I look forward to more improvements with my baby boy.
I was extremely nervous about traveling far (from Chicago) for a chiropractic visit. My nerves were calmed immediately as soon as I stepped foot into the office. The staff is amazing. They are super friendly and encouraging, and they are always willing to work with my schedule. They are very genuine, and they always have a smile on their face. Dr. Hanson is very knowledgeable with what he does, and he ensures that all of my questions are answered. I love that he is very thorough when explaining the progress that my son is showing. My baby is super shy, and Dr. Hanson is so calm and good with him. My son is finally starting to open up, and he even gives high fives to Dr. Hanson after his sessions. All of this and more is what keeps me motivated to make the drive to the office. Dr. Hanson and his team are simply the best!"
-L.D.
Friendly and Helpful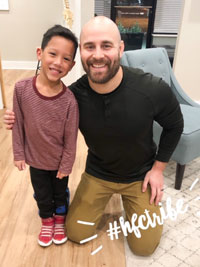 "We started chiropractic care due to my son's behavioral issues that were beginning to worsen along with his premature history. Andres was born at 30 weeks. The behavioral issues/high energy level started at the age of 4 and was beginning to effect school.
Chiropractic care has helped Andres so far with behavioral improvement and what I think is the brain filtering through information more effectively.
The team is amazing! Always such friendly and helpful ladies at the front desk. Whenever I need to switch appointment times, they are always willing to accommodate us. Dr. Hopper and Dr. Hanson are very knowledgeable and so good with the kids!"
- Mom & Dad
Amazing with Kids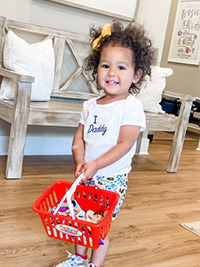 "Anahi started her chiropractic journey due to always getting sick. I got tired of the monthly doctor visits, giving her antibiotics constantly to turn around and have her catch something else. It seemed like a never ending cycle and it seemed like we were headed down a similar path as her older brother. Our pediatrician recommended we see a chiropractor and after some research we decided to go with the Hanson Family Chiropractic!
We are proud to say she no longer gets sick as often and have not had to see the doctor due to illness! If she occasionally gets the common cold/cough it doesn't last nearly as long!
Dr. Hanson and Dr. Hopper are amazing with kids. They are always willing to give a little extra time with questions I may have about the kids progress or even something going on with myself. Next step is this Momma! Thanks to the ladies up front for always treating us like family!"
- Mom & Dad
Warm and Welcoming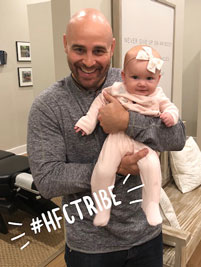 "Lily has been seeing the Dr. Daves since she was only a few weeks old. She is our third and EASIEST child. She has been sleeping through the night since she was a month old and has the most delightful disposition. We didn't battle colic, reflux, or digestive issues and I truly believe regular chiropractic care is to thank for keeping everything working properly!
We love coming to see our friends at Hanson Family Chiropractic each week. I say friends for a reason- that's exactly what they are. Everyone on the team is warm and welcoming and always happy to see us. I can't thank them enough for giving Lily the best possible start in life."
- Mom & Dad
A Game Changer!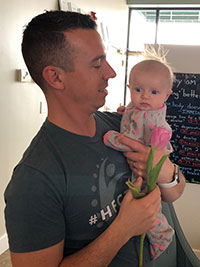 "Emrie started getting adjusted by both Dr. Daves when she was just a few weeks old! After seeing such success getting our 2 year old daughter adjusted as a baby, we knew this was one of the first stops we'd make if we had another baby! From birth, Emrie seemed restless and had a difficult time falling asleep/staying asleep for any length of time. She also had a difficult time pooping and would wake herself quite often each night grunting and straining to poop. Her body was tense & she definitely had her foot on the "gas pedal" so we knew being adjusted by Dr. Dave was just what she needed!
Emrie is a different baby since we started her with chiropractic care. She's happy, relaxed, sleeping 6+ hours at night and pooping regularly with little effort!
We love Hanson Family Chiropractic! Both of the doctors are extremely gifted at their craft- they know their stuff! The atmosphere is relaxed and comfortable and the ladies up front are all so friendly! Everyone goes above and beyond to make you feel welcome! The first time Emrie was adjusted by Dr. Hanson, she pooped mid adjustment. In that moment I was so thankful because I was reminded just how important chiropractic care is! We are so so thankful for the knowledge and individualized care that we received for each of our girls! :) Definitely a game changer!" Mom & Dad
Focused on Overall Health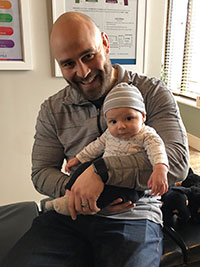 "We brought Hudson in for reflux issues that he has had since he was born. It affected him the most when we would lay him down to sleep and after he would nurse. We weren't able to lay him down flat on his back because he couldn't breathe well and would make gurgling sounds.
Hudson has been able to sleep flat on his back and stopped making gurgling/choking noises. He is breathing better and seems to be processing breastmilk better!
Both doctors are very kind and easy to talk to. I have asked them questions about all kinds of things from health, vaccines, paleo diet, and tantrums. It's nice to go somewhere where you don't feel rushed. You can have a real conversation with a doctor and they really care about your overall health."
- Mom & Dad
So Glad We Found This Approach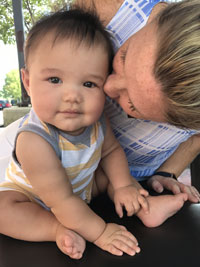 "Liam started showing signs of reflux pretty much since the day he was born. Liam's sister, Laya, had reflux as an infant but never to the level Liam had. Knowing the difference and severity of his case we decided through discussions with his pediatrician that the "only solution" for relief were medications.
The medicine would work at first and than it would quickly wear off and show signs of reflux again. Sleep would be disrupted, his mood would be all over the place and you could tell he was overall extremely uncomforatable. We would contact the pediatrician only to find out we would have to increase his dosage and than eventually switch medication all together. Liams father and I weren't excited about dosing our infant with medicine after medicine and I started to search for an alternative approach.
There was a small window when we took Liam off his meds completely that his symptoms, while under chiropractic care, came to a peak and we got a little nervous maybe this now wasn't working. We addressed our fears and concerns during a routine adjustment, and Dr. Hanson calmly assured us these few days/week was all a part of the process and to do our best to trust the process and be patient and it was all signs that we were headed in the right direction. We had already seen improvements in Liam's sleep, so we knew something for sure was working.
We are happy to report, we held through, trusted the process and Liam is med free and reflux free. His sleeping is fantastic and his mood and overall happiness is shining nonstop. I'm so glad we found this approach and I have found myself telling complete strangers what this has done for him. I wish I had done this with my daughter 5 years ago.
- Mom & Dad
Extremely Welcoming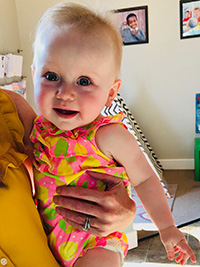 "It was determined that Hannah had a gross motor delay when she was 6 months old. She was late to roll over, bear weight, and is still working on crawling. She began P.T. at 6 months, and her therapist mentioned possible Torticollis as well. Aside from the poor muscle tone and stiff neck, Hannah suffered from bouts of severe constipation and restlessness. She did not sleep more than 4 hours at a time until she was 6 months old.
Recently, Hannah has graduated to solid foods and is much happier. She no longer has GI issues and is able to sleep longer. Her physical therapist has also noticed the muscles in her neck are more relaxed.
Dr. Hopper was extremely welcoming and showed such concern from our first visit on. Hannah is often afraid of strangers, but after our first month, he is able to adjust her without any tears. The entire office is warm, friendly, and understanding."
- Mom & Dad
Calm, gentle and caring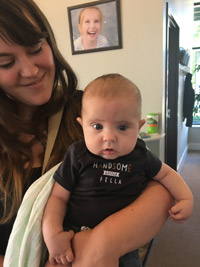 "When Miles went in for his two month checkup, the pediatrician discovered his soft fontanelle was closed. We were immediately referred to a neurosurgeon and we decided to seek chiropractic care as well. A thermography scan showed major stress points on C1, C2 & C3. The vagus nerve that runs through these vertebra has many functions, but one of them is controlling when the plates in your head close. We had to remove that stress point in his spine or face a more serious situation.
At our halfway scan, the stress points on C1, C2 & C3 were completely gone! His spine is completely stress free – he is less stiff and he's pooping better too! A happy, unintended side effect :)
Dr. Dave & Dr. Hopper have been amazing at explaining the whole chiropractic process with me. They are calm, gentle and caring with Miles & he loves coming to get adjusted! Happy smiles from him the whole way home. :) "
-Mom & Dad
Thijs loves his adjustments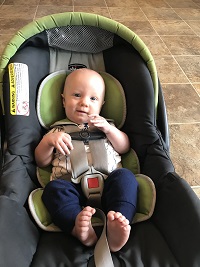 "At 8 weeks Thijs sleep was erratic and didn't seem to be restful. He would cry while still fully asleep. Additionally my sleep was negatively affected. I did everything I could to help him sleep more soundly, but nothing made a noticeable difference.
A week after beginning Chiropractic care, Thijs was sleeping soundly for 6-7 hour stretches at night. Now, if he cries there is a clear reason why and I can attend to his needs more confidently and effectively.
Thijs loves his adjustments, and my other two kids feel at home at the office. I look forward to getting more of the family under care."
-Mom & Dad

Baby and Toddler Success Stories for Hanson Family Chiropractic | (630) 230-6416