Baby & Toddler Success Stories
Seeing Progress With Chiropractic Care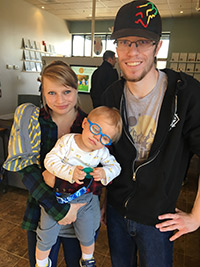 "Keegan started chiropractic care because it was recommended by his speech therapist who knows Dr. Dave Hanson. Keegan needed early intervention therapy. He also has vision issues that required surgeries.
Keegan is starting to walk, he crawls better and does not have many stomach issues anymore. He's getting good reviews from therapists and has a better mood. His body strength has improved and he has become a little person.
The practice is very welcoming and friendly. The staff is very passionate about what they do. Dr. Dave is very down to earth and is very good at explaining what is going on."
-Mom & Dad
No More Ear Infections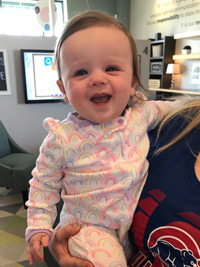 "Our little Claire Bear is a very happy baby, but struggled with severe torticollis, back arching, low core, and occasional stomach issues. This made it difficult for her to sit up on her own and was contributing to some flatness on the back of her head. She had a pretty intense entrance into this world and spent the majority of her last month in the womb sitting quite low, causing stress on her neck. We tried doing stretches on our own with her, but nothing was helping with her inability to turn her head to the left. She was also a chronic catnapper, never fully comfortable enough to get great rest.
Chiropractic care has completely changed Claire's sleeping habits and she can now turn her head like a tiny owl! She is taking two naps a day like a champ, and sleeping through the night. She is also sitting up, and on the move with crawling! Her chronic congestion has also slowed down a bit!
We chose Dr. Dave and Hanson Family Chiropractic because we had such great results with our other daughter, Gracie. We knew that doing this would be the best move for Claire as well, and we (and she!) couldn't be happier. It's been wonderful to see the staff at Hanson again, as they are always so kind, caring, and knowledgeable. We feel totally comfortable and reassured that both our girls have been in great hands with Dr. Dave and his practice. If you are feeling hesitant about chiropractic care, don't. Go see Hanson Family Chiropractic sooner rather than later, you won't regret it!"
-Mom & Dad
Ears Completely Clear!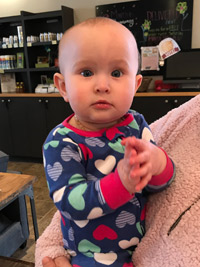 "We began chiropractic care for Scarlett due to her "traumatic" birth. She was born early at 34 weeks via emergency c-section. We dealt with sleep and constipation issues, and later problems with fluid in her ears. Since her one and only ear infection in December, no matter what we did, we couldn't get rid of the fluid.
Upon meeting Dr. Dave and learning about how her birth affected her, everything made sense. Her scans confirmed the symptoms we were seeing, so we were excited to get started and get Scarlett feeling better.
After only a couple weeks of adjustments, I took Scarlett to her pediatrician for an ear check. To our surprise, our doctor told us that both of her ears were completely clear! A week later Scarlett was re-scanned and there was so much improvement shown. Things were so much calmer and clearer. We can't wait to see continued improvement and health benefits for Scarlett as she has more adjustments!
Dr. Dave and his entire staff are, to put it simply, amazing! They go above and beyond to make their patients, no matter the age, feel comfortable. They treat everyone like family. They love Scarlett and always make her smile! Dr. Dave really has a way with kids, and he always makes the time to thoughtfully answer questions and give suggestions – even if they're unrelated to treatment. Truly an amazing place with top quality care – a place where people feel so comfortable and at home. What more could you ask for? :)"
- Mom & Dad
Greatest Help For Our Family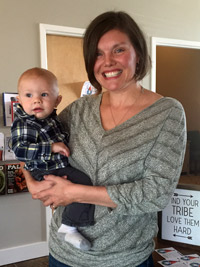 "After months of not sleeping and colicky behavior, and seeing how impactful regular visits were for our other kids at Hansen Family Chiropractic, we decided to have Dr. Dave begin working with our 6 month old, Ethan. He hadn't been getting adjustments as we were paying out of pocket, but the benefit we saw with our other child was too significant to ignore.
While some of Ethan's issues needed to be resolved later on with oral surgery, the severity of his symptoms decreased dramatically during our visits. It allowed our family to function better, and Ethan to be more comfortable. Now that he has had his surgery, we are continuing care because we see the benefit it has for him for his overall health, not just for symptom relief. It is a sacrifice our family makes with four kids, but when your first question is not 'should we make this work', but 'we need to make this work because it is so beneficial.'
For anyone questioning the value and whether the sacrifice is worth it, we know the challenges that can bring and have to evaluate that with our family as well. However, without a doubt this has been one of the greatest help for our family and worth whatever sacrifice is necessary to make it work for our kids."
-Mom & Dad
Our Family's Quality of Life Is So Much Better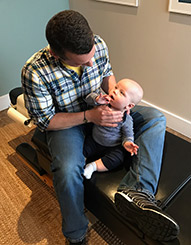 "We decided to begin chiropractic care for our 5 month old son to aid with respiratory issues he was experiencing. At 2 months, Ezra contracted a cough from a minor cold. After a few days the cough worsened and was accompanied by wheezing. We noticed a significant decline in his nursing and began showing signs of retraction and trouble breathing. He ended up in the hospital and was diagnosed with Bronchiolitis (RSV). After several weeks of supportive care we thought he was all better. At 4 months, he began showing all the same signs again so we took action earlier. He began breathing treatments and this time symptoms only lasted about 2 weeks. We did not want our son to have to rely on medications long term. We also did not want these early life health concerns to cause lasting effects later in his life so we hit the interwebs and found chiropractic.
Since beginning chiropractic care with Dr. Dave, Ezra has been free of chronic coughing, wheezing, with no signs of any other respiratory concerns. Ezra's recent milestones are rolling from back to tummy and tummy to back with ease, and sitting unassisted. He is trying very hard to crawl so we anticipate another milestone very soon. Seeing our son without the constant coughing and struggle to breathe has made our family's quality of life so much better and less stressful.Read more from Jade »
Dr. Dave and his team are delightful, extremely warm, and welcoming. Dr. Dave takes the time to listen to what is going on, and actually studies your concerns and symptoms. You know he cares simply due to his attention to detail. Brittany, Rachael, and Natasha are all amazingly kindhearted and always greet you with a smile. They are also excellent baby snugglers! The HFC Tribe truly feels like a small family. We are so thankful to be a part of this community of people!
If your health issues are not being addressed or resolving with your current efforts, consider chiropractic care – better yet, consider Hanson Family Chiropractic! Join the Tribe and experience health in ways you never thought possible!"
- Mom & Dad
Improved Almost Every Aspect of Our Lives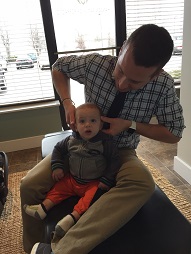 "We started care because our 8 month old Henry had been getting ear infections. We were about to start his 4th round of antibiotics when his doctor suggested chiropractic care. We knew we were headed towards tubes so we figured whats the harm in trying chiropractic? Henry had moved through his milestones quickly but then kind of stalled. It took him a really long time to go from pushing up to crawling. He was constantly sick. Always had a runny nose and was constantly throwing up. We just felt so bad for him. Our first baby was sick and there was nothing we could do. It was heartbreaking.
Chiropractic care has improved almost every aspect of our lives. Since starting care, at 10.5 months Henry has started walking and running. He is also sleeping through the night. 7am to 5:30pm he is just a complete joy to be around. He smiles, he laughs and he hasn't had a single ear infection. When he did get sick he had a runny nose for a few days and it cleared up. Before it would have lingered and turned into an infection.
The whole team is absolutely amazing. Everyone is smiling and genuinely happy to see you. They work so hard to accommodate your schedule. Dr. Dave is amazing with kids and Henry loves to get adjusted. He smiles and laughs when while getting adjusted. Thank you Hanson Family Chiropractic for changing our lives!"
-Mom & Dad
Given Grace and Understanding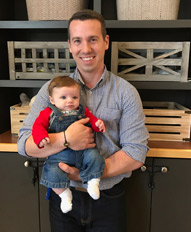 "We brought Walker (3 months) to Dr. Dave because he was suffering from reflux on a daily basis. In fact, his reflux was so bad, he struggled to nurse and would scream and cry in pain. This discomfort caused Walker to eat less and cry more. A tired baby means a tired mommy and daddy. We needed Walker to eat better and sleep better!
Walker's latest scan showed what we already knew. His alignment had opened up communication between his brain and his little tummy, alleviating his reflux issues.
A screaming infant and stressed out mommy walked into the doors of HFC and not once did anyone make us feel unwelcome! Instead, I was given grace and understanding making me feel comfortable during my scan and my son's scan. Thank you so much for that, it meant a lot! :) "
- Mom & Dad
I couldn't be happier with Dr. Dave and the girls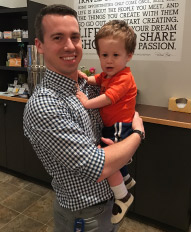 "Isaac had a very traumatic birth and was born with low muscle tone (hypotonia). He has significant developmental delays and has been in OT, PT and speech since 4 months of age. At one year Isaac was congested 100% of the time and wasn't crawling or sitting up on his own. That's when we looked into seeing Dr. Dave.
One month after starting chiropractic care Isaac started sitting up, crawling and has had absolutely no congestion! I am certain Isaac is continuing to progress due to continued chiropractic care. Im so glad I brought him in and fear the thought of where we'd be if we hadn't.
I couldn't be happier with Dr. Dave and the girls. Dr. Dave is so good with Isaac and Isaac responds well to him. The girls at the front desk are so willing to hold Isaac when needed and love on him like he truly is part of the HFC family."
- Mom & Dad
Holistic, Natural Treatment During Pregnancy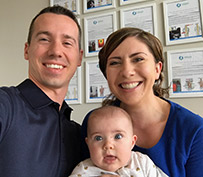 "I started chiropractic care while pregnant with my first child. I had a lot of back pain due to an ever growing belly! I was determined to work up until I was in labor, but teaching was getting harder and harder. I am happy to say I taught a full day at school the day I went into labor!
Being pregnant, medications were not an option for me. I was determined to get holistic, natural treatment for the sake of my baby.
My biggest milestone was the birth of my happy, healthy daughter! Labor and delivery were uneventful, and my recovery was as to be expected-no doubt thanks to Dr. Dave!
My daughter Claire and I love coming to see Dr. Dave! He was great while I was pregnant with her, and sees her now still at 4 months old. She and I have greatly benefited from her chiropractic care! Dr. Dave and his staff are so FLEXIBLE with appointments. With a brand new baby, this has been invaluable! I'm so grateful that last minute appointment changes always work out and my daughter and I can make sure we stay on a healthy track!
- Mom & Dad
We are Extremely Grateful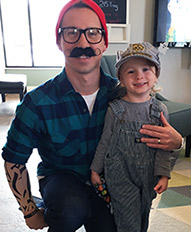 "We started chiropractic care at the recommendation of our pediatrician because he had chronic ear infections for six months and was experiencing mild hearing loss, which was affecting his ability to develop speech properly. We wanted to avoid having tubes and chiropractic helped do that.
After his first adjustment, his ears drained for 24 hours and improved greatly. By the sixth week of treatment, his hearing loss resolved and tubes were no longer a potential need.
Fluid in his ears continued to be a risk but is held at bay by chiropractic adjustments. When we think that a year ago we were worried about his slow speech development and we look at him now, talking in paragraphs, we are extremely grateful to have found Dr. Dave and Hanson Family Chiropractic. You guys are lovely."
- Mom & Dad
Genuinely Caring!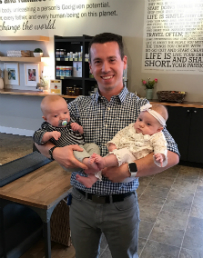 "I brought my daughter Jordan to see Dr.Dave after she was diagnosed with torticollis at two months of age. She was unable to hold her head straight when in her car seat or swing, and she always preferred to look to her left side. I also decided to bring her twin brother Jacob for chiropractic care because he was not sleeping well due to constant congestion at night.
What surprised me the most was the fact that within a week of starting chiropractic care, both babies began sleeping 6-8 hour stretches at night. This was a huge change! They had been sleeping for only 3 hours between feedings. As a mom of twins, this was amazing! Within a couple of weeks, I noticed a huge improvement in Jordan's neck mobility. She now looks side to side with no problems and her paediatrician was so impressed with her progress, that she asked for the name of our chiropractor! Also, Jacob's congestion has completely cleared!
We live quite a ways from the office, but the drive has been worth it. Dr.Dave and his team are so genuinely caring. They have gone out of their way to accommodate my family when we have needed to reschedule or add an appointment due to illness. The environment is very calming and very kid-friendly, and we are always greeted with a smile.
We are so thankful for Dr.Dave and his team and for the improvements we've seen in Jacob and Jordan so far!"
-Mom & Dad
I am so glad we chose to seek chiropractic!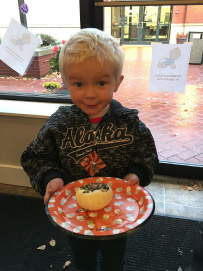 "It all started when our son, Connor, was born. He was induced at 39 weeks and was 10lbs, 15 oz at birth. He had, what they thought, was a broken collarbone. When we were pregnant with Connor we were told he had a heart defect at 20 weeks that later resolved after further ultrasounds.
I would describe Connor as colicky in the beginning. He was never happy. He was an angry baby and cried all the time. He was up most nights and it would be very difficult to soothe him back to sleep. As he was getting older we thought his colic would start to subside but it did not. We saw a peds GI who was not easy to work with and we felt really just brushed us off. He sent us to OT which we completed by 10 months old. During this time frame Connor was suffering from multiple ear infections and ended up getting tubes placed at 10 months.
We started to think this is just how our son would be, cranky, not sleeping, not a good eater and just miserable. Every time we went out anywhere there would be a huge melt down. Our pediatrician referred us to OT again. This time I did more research and we chose to go with My Recess to help with some of Connor's issues. We started noticing an improvement pretty quickly and it was suggested that Connor had Sensory Processing Disorder. It was all starting to make sense. Well, one night we had a really bad night and we emailed our OT about it. It was recommended that we see Dr. Hanson to get his opinion regarding whether or not he could help Connor.
Read more from Samantha »
We met with Dr. Dave and his staff. Everyone was so welcoming. When we had our first consultation, we felt relieved! We learned that Connor was not the only child who had these issues and that chiropractic could really help him. We decided to go all in and do exactly what Dr. Dave recommended. We have been seeing Dr. Dave 3x per week for about 4 weeks and we have our son back! This is our Connor, he is happy, smiling, sleeping and such a great kid.
I am so glad we chose to seek chiropractic. My husband and I were open minded but doubtful it would help our son. We are both believers.
Connor is able to sleep all night and fall back asleep if he awakes. He is taking better naps. His overall attitude is better. He is happy, healthy and thriving!
Dr. Dave and his team are like no other office or care. They are welcoming, kind, flexible and so easy to talk to. Natasha, Brittany and Kristen are such a breath of fresh air when you walk in the office. Dr. Dave is so great with kids it's unbelievable. My children cheer when they know we are going to see Dr. Dave. We truly feel we are part of the chiro family and it has been nothing but a great experience. We are now seeking chiropractic therapy for our daughter."
-Mom & Dad
Compassionate and Caring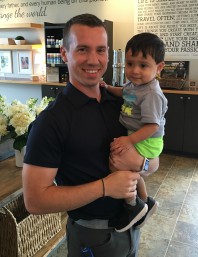 "Valentin started chiropractic care back in March for chronic ear infections, I knew he had quite a few infections and that they would soon be recommending eustachian tubes. I remembered working for a chiropractor a few years back. She too treated young babies and kids for this same issue. I also remembered her saying, more than half of the time chronic ear infections can be resolved with special adjustments from a chiropractor. So I googled the most top rated one that specialized in pediatrics and I found Dr. Dave!
My son also had stomach issues at four months old drinking a special formula to control symptoms. Along with numerous ER visits, I did not want him to go through surgery without first exhausting all other options. I was also worried about him becoming immune to all the antibiotics he already consumed. ENT specialists told me he would probably have speech delay, scarring in both ears and probably fail his hearing test. Oh and not only one told me, two ENT docs said this!
Since starting chiropractic care, Valentin has had TWO hearing screens which he PASSED with flying colors, and according to his pediatrician is right where he should be speech wise in the development stage. He had come a long way and I am very proud of him.
Dr. Dave is compassionate and caring with a wonderful staff that always makes you feel at home. My questions are always answered and I never leave without a positive experience. I would, without hesitation, recommend him to my family and friends."
-Mom & Dad
I am beyond thankful that we started seeing Dr. Dave!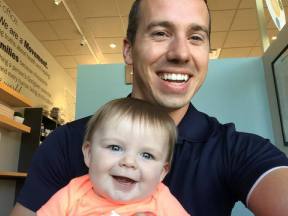 "My son Camden was diagnosed with torticollis around 4 months old. He wasn't able to turn his head to the left he wouldn't roll over on his left side and he was having trouble sleeping. We tried physical therapy for a couple months and he wasn't really improving. I started talking to a girl who had the same issues with her son when he was a baby, she told me that they also tried PT and it didn't help so she then took him to a chiropractor. She said he improved so quickly and was so impressed. I started looking into taking Camden to a chiropractor, I know they have helped my husband as well as myself in the past. Dr. Dave came so highly recommended that I couldn't NOT meet with him.
Camden is now almost 8 months old and is rolling over in both directions like crazy, he has full range of motion on both sides of his neck and he's sleeping so much better!!!
After meeting with Dr. Dave the first time and hearing his history I trusted him completely. The staff is absolutely amazing and friendly, they make you feel like you're family. Camden is so smiley when he sees the girls and Dr. Dave. I am beyond thankful that we started seeing Dr. Dave!"
-Mom & Dad
Grant's milestone is that he has been ear infection / fluid free since last summer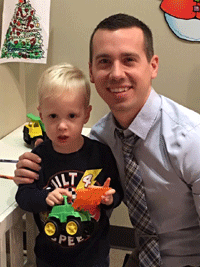 "Our journey with Dr. Dave started in the Spring of 2015 shortly after my son turned one. It all started when he was diagnosed with an ear "infection". He was placed on an antibiotic for 10 days. At his follow up appointment, I was told the "infection" was still present and he was placed on a second round. Over the course of 2 months, Grant was placed on 4 different types of antibiotics, which resulted in an awful allergic reaction, diarrhea, loss of appetite and eventually his refusal to take the medication altogether. I was told that since the "infection" wasn't responding to the antibiotics that he should see an ENT and be evaluated to have tubes placed in his ears. I readily accepted it since I wasn't about to put him on another round of medication. The ENT told me that my son didn't have an infection but there was fluid in the ear canal that wasn't draining properly due to its anatomy and recommended tubes be placed. I scheduled the surgery even though I was very uneasy about it. Around this time, I had been in to see Dr. Dave for a personal adjustment and mentioned to him our situation. He highly suggested that I watch his presentation on ear infections before Grant's surgery. What a wonderful presentation and backed up by sound medical facts. When I called the ENT to cancel the surgery stating we were first going to try an alternative method, the doctor actually laughed at me. I guess the joke is on her!
Grant's milestone is that he has been ear infection / fluid free since last summer. He has been back to the pediatrician due to illnesses caused by being in daycare and at every visit they check his ears. Each time I wait in anticipation for them to tell me he has an ear infection or fluid but the response I receive is "His ears look clear and beautiful..whatever you are doing..keep doing it!!" I be sure to mention that Grant sees his Chiropractor for routine adjustments.
I am so thankful and blessed to have found Hanson Family Chiropractic. They are so friendly, accommodating, and knowledgeable. I feel like we are part of a family. In a world where doctors are so quick to write a prescription for the symptom and rush you out the door, it is very refreshing to be listened to and then have the CAUSE naturally treated. The body is an amazing thing and can do wonders in healing itself if the interference's are removed."
-Mom and Dad
A whole new kid
"This man is a miracle worker. I am a skeptical man of science and had tons of preconceived notions about chiropractors. I thought it was quackery, with a very vague and shady scientific tie in. Let me just say that I was very wrong. Dr. Dave makes it very scientific. There are metrics, measurables, milestones, and other quantitative data to tie to results.
My 2 year old daughter was dangerously underweight, irritable, and had problems with her stomach. We took her to traditional doctors, GI's, occupational therapists… everyone said she was fine and would grow out of it. After a week or so with Dr. Dave treating her, she is a whole new kid. His demeanor, his process, and most of all his results are all worthy of this 5 ***** review. Go see Dr. Dave today!! Your kid will thank you.
-Mom and Dad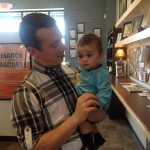 Instantly saw awesome results
"My son Colin had torticollis, was constantly spitting up, and eczema since birth. He could not turn his head which was causing difficulties to roll over and nurse on one side. We heard about Dr. Dave on Facebook and loved what we read about him and his view on overall health! We considered physical therapy for his torticollis, but instead chose to go straight to Dr. Dave. We instantly saw awesome results! He corrected the torticollis, cleared his skin, and stopped the constant spitting up from the torticollis! Dr. Dave is so personable and down to earth! He has a great demeanor with kids! Dr. Dave is a wealth of information on good health. His office is a very kid friendly place."
- Mom and Dad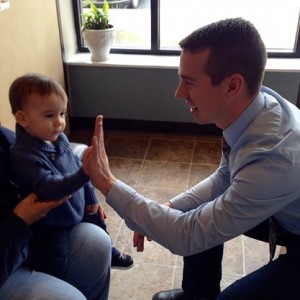 A vast improvement
"Our son, Camden, was a challenging sleeper. He rarely slept through the night and it reached the point where we knew something else must be going on. A friend went through a similar situation and referred us to HFC. Due to their amazing results, we decided to give it a try. Camden's sleep was affected most when he would get sick. After an illness, we knew we would have 3-4 weeks of multiple wakeups each night. Once we started seeing Dr. Dave, we have seen a vast improvement with Camden's sleep after an illness. We went from 3-4 weeks of wakeups to 1-2 days!
HFC is very flexible and accommodating. The environment in the office is appealing and there is even a tidy play area for children! Dr. Dave and staff are very warm and friendly and we always feel welcomed. The adjustments are quick, yet Dr. Dave will take the time to answer any questions we have. We would recommend HFC to family and/or friends because we have been incredibly happy with our experience. Dr. Dave has helped our son tremendously and we are very grateful for finding HFC!"
-Mom and Dad
Great compassion and care
"Tyler was a very challenging baby in that he couldn't get comfortable enough to sleep longer than a few hours TOPS! Matt and I grew very sleep deprived and upset that nothing we did seemed to help him. Having to rock him to sleep 4-5 times each night, even at 10 months meant we needed help! Within a few visits Tyler seemed more able to relax and get comfortable. The amount of times he woke up screaming began to diminish and his sleep spurts grew longer. By 3 months (Dr. Dave's prediction) he was sleeping about 9 hours at night! He also had a very healthy winter thanks to regular adjustments. We look forward to very early adjustments for our future children from Dr. Dave. I can only imagine the stress Tyler's c-section had on his poor little body. We love that we feel like family at HFC. It is such a comfortable office with a family-centered atmosphere. Dr. Dave and Kristen knew our names at our first visit and show great compassion and care each time we come. We also appreciate Dr. Dave's gentleness with our son and honesty and optimism toward us – first time chiropractic visitors. Yes we would recommend HFC to friends and family and we have!!! We definitely see the advantage of chiropractic care and are believers that adjustments can benefit in so many ways-way more than I ever knew!"
-Mom and Dad
We see a huge difference
"Such a warm, friendly, family oriented practice. My 1 year old has been seeing Dr. Dave for almost 3 months now and we see a huge difference in his demeanor and sleep; we went from waking 5-6 times a night with a screaming baby to sleeping long stretches and even a whole night once!"
-Mom and Dad
Kind, gentle, and thorough care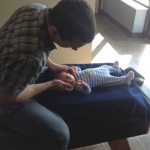 "Love their approach to overall wellness. Natural healing, the way God designed our bodies. Kind, gentle and thorough care of our little boy (currently 1 month old)."
-Mom and Dad
Dr. Dave to the rescue
"We originally found Dr.Dave online when searching for a local chiropractor. Our son had a fever starting on a Friday night. The fever was 103.2 at its highest. We tried over the counter medications: Tylenol and Motrin for infants. It would lower the fever but never break it. My wife and I called Dr. Dave on the following Monday because he has always given great advice on more natural ways to treat an illness. This was after seeing our pediatrician twice over the weekend with no real help other than Tylenol or Motrin. If you read the labels on these medications, it states to stop use after 3 days because it can have a negative affect on a baby's liver. This scared us and with no real help from the pediatrician we turned to Dr. Dave. That Monday Dr. Dave adjusted our son and his fever broke a few hours later. Thank you Dr. Dave for helping us through our child's first sickness. Dr. Dave to the rescue again for us!"
-Mom and Dad
No more breathing treatments
"We came to Dr. Dave after being told our six month old needed to do breathing treatments twice a day for an unknown amount of time to prevent bronchitis and the future possibility of asthma. As a mom, I couldn't accept this solution. Shortly after that appointment I contacted Dr. Dave and began his adjustments on Jovie. At nine months I stopped our mailing breathing treatments completely, and at her twelve month appointment her pediatrician was amazed at her strides and health! We can now get just a common cold without it turning into bronchitis and no longer have to do breathing treatments on her! Amazed at what Dr. Dave has done for us and Jovie's future!"
-Mom and Dad
We are beyond thankful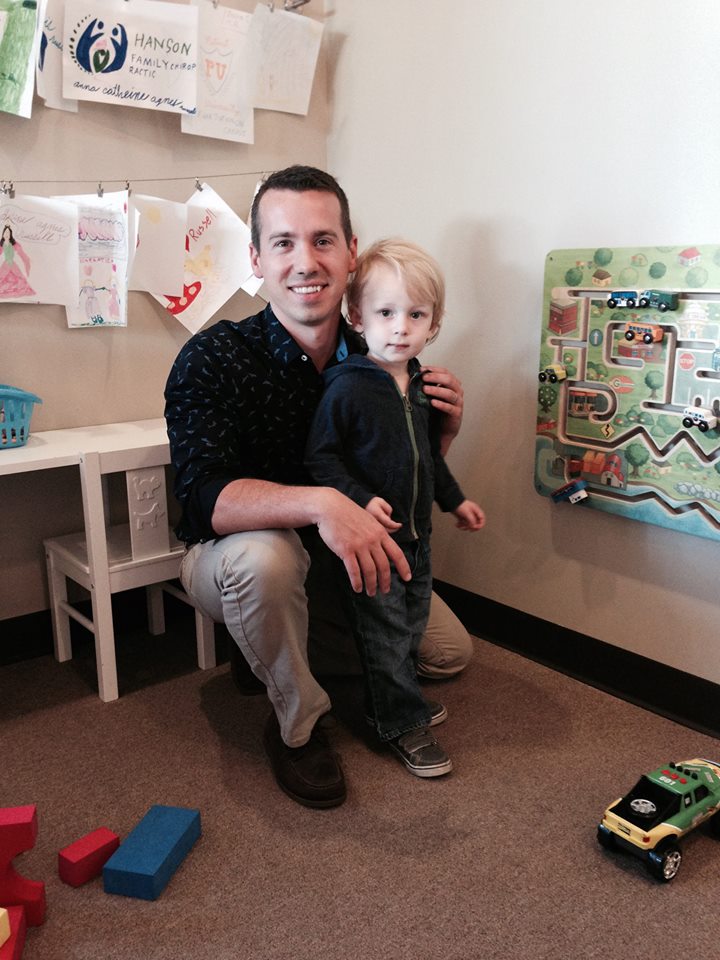 "Sam had fluid in the middle ear in both ears for at least 9 months. We tried eliminating dairy, Claritin, avoiding getting his ears wet and going underwater. Sam has delayed speech due to the fluid. He was on his way to tube surgery as suggested repeatedly by his pediatrician and ENT. Since starting care with Dr. Dave, Sam passed his hearing test and we were told by the audiologist and pediatrician that there is no fluid present in his ears. Now Sam will be able to begin speech therapy! Sam loves coming to HFC, which was not the case when we began. We love that it is very kid-friendly and that Dr. Dave has been willing to adjust Sam in unconventional ways to ensure his comfort. We were told that Sam would willingly lay on the chair eventually and that happened, to our surprise! We were desperate and disheartened when Sam's other doctors suggested he needed tubes so we put our faith in Dr. Dave. He delivered on his promise that he would be able to help Sam, an we are beyond thankful! We knew tubes could not be our only option; we just needed an expert to confirm this and respect our concerns, which is what Dr. Dave did."
-Mom and Dad

Baby and Toddler Success Stories for Hanson Family Chiropractic | (630) 230-6416