Dr. David Hanson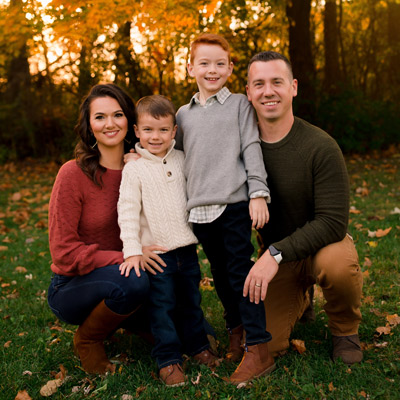 Chiropractic wasn't always Dr. Hanson's chosen career. After working in the business world for a while, he realized he wanted to help people and impact their lives in a more profound way. He also knew he loved working with his own two hands. After experiencing his own personal transformation through chiropractic, and being encouraged by his own chiropractor, he decided to pursue the same path. He could use a hands-on approach in another way-to build people's health.
Dr. Hanson attended National University of Health Sciences, receiving a Doctor of Chiropractic. His education didn't stop there, however. He continues to build his skills and knowledge by taking regular courses and pursuing certifications, such as in the Webster Technique for pregnant women and his Pediatric Certification for children.
Establishing Roots in Batavia
Dr. Dave is excited to be serving the community where he was born and raised. He attended J.B. Nelson Elementary School and Montessori Academy of Batavia. Dr. Hanson attended Aurora Christian High School where he met his future wife, Kristen. They bought a home in Batavia and love completing DIY project on the weekends. He is also a loving father. One of this favorite things to do with his boys, Jack (6) and Jonathan (3), is go on outdoor adventures.
The Hansons have remained in the Batavia area for many reasons. They love the friendly, hard-working, family-focused people here. They love to bike on the trails, walk along the river, visit the Batavia Public Library, swim at Quarry Beach, pick up fresh fruit at the Batavia Farmers Market and enjoy music at the Batavia Riverwalk Pavilion. There are also so many great places to shop and eat in the surrounding area.
Dr. Dave and his wife are proud of the community within a community they've established at their small business. They've created a culture of kindness, healing and fun in right here in Batavia!
Living the Hanson Family Chiropractic Lifestyle
Dr. Dave "talks the talk" and "walks the walk" by making healthy lifestyle choices a habit. This does not mean he's perfect, but it does mean he makes the effort every day to make good choices. The Hanson Family Lifestyle consists of regular chiropractic care; a healthy nutritious diet; daily fun exercise; a positive mindset; and the use of products with pure, natural ingredients. It's that simple.
At Hanson Family Chiropractic we've seen hundreds of lives transformed. Dr. Dave and Kristen are excited to help people heal and live a better tomorrow through chiropractic care!
Call Now
Contact our team today to schedule your first appointment! At Hanson Family Chiropractic we have same-day visits available.

Dr. David Hanson | (630) 230-6416