Adult Success Stories
What Our Patients Say
We are PROUD of our patients and the progress they make while under our care. There's nothing we enjoy more than celebrating our patients' successes along with them. And when there's something good happening in our lives, we feel inclined to share it with others, right? Using personal stories to share the power of chiropractic with others is one of the most valuable tools our practice can use to encourage others to give chiropractic a try – a decision that can be life-changing! We love sharing pictures and stories of our patients in the interest of showing others that real people are getting great results here at Hanson Family Chiropractic. Has Hanson Family Chiropractic made a difference in your life? We'd love to hear about it! Please share your story with us.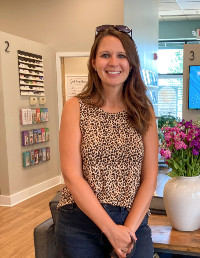 I Feel More Relaxed Just Walking In The Door
I have had a bad lower back since carrying my kids around 12 years ago. My back would go out at least once a year and I would be laid up for days. I went to different doctors, but there was never any relief. My back feels about 90% better since getting adjustments! I feel like I am walking straighter and don't need to sit on the heating pad every single night. Everything is so soothing and relaxing here. The decor and staff are mellow & calm. I feel more relaxed just walking in the door.
-M.K.
I Now Have More Energy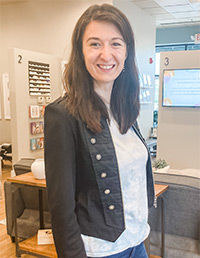 Before starting chiropractic my back hurt, my knees were popping whenever I'd go on a walk, I experienced discomfort whenever sitting (my back had a curve that prevented me from, say, leaning against a tree), menstrual cramps, little energy, and overall lack of ambition to do anything. Now, I wake up before the alarm around 6 or 7 AM! In the past, I'd groan and moan and stay in bed until 10am. No menstrual cramps! I can sit cross-legged AND lean with my back against a tree. I have more energy when I play with kids. My posture has improved! I get all these new, crazy, creative ideas like bringing a piano to the roof of a building to shoot a music video, and I'm EXCITED about it. Before chiropractic care I had forgotten what it meant to be experience JOY and EXCITEMENT and be a child! Ms Raluca is on fire!!!! The front desk ladies are super friendly; Bethany, Megan and Natasha always make me feel like I'm among friends. Additionally, Dr. Dave really knows his stuff; I appreciate how thoroughly he's gone through the care plan and the scans, bonus, he's funny.
-R.H.
Love Coming In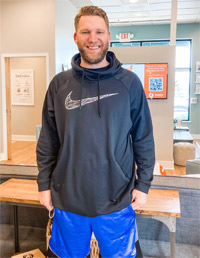 I started seeing Dr. Hanson 5 weeks ago. I came as a sort of "last resort." I've had chronic pain for the past 5 years of my life. I've seen everyone from general practitioners to urologists and finally landed at a pain management specialist and have undergone 2 surgeries. Nothing has improved my mobility, energy and overall pain level in such a short period of time as Dr. Hanson! I'm extremely optimistic for the first time in years that I may be able to live a pain-free life again. Being able to run around and play with my toddler has been such a blessing. I could never do this a month ago without thinking twice about how I would feel afterwards. I'm very excited about how much my pain level has decreased since beginning my sessions. I love coming in and being greeted in such a positive atmosphere. The entire office makes it a very enjoyable experience!
-K.L.
The Benefits of Regular Adjustments Caught Me By Surprise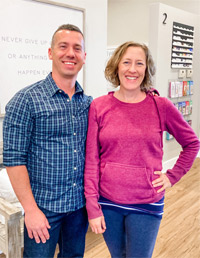 Initially, I sought out chiropractic care due to lower back pain which was chronic and mild most of the time, but would flare to severe on occasion. I am one-third of the way through my treatment plan and can say that my back is experiencing progressive relief, which I expected, but the "side" benefits of regular adjustments have caught me by surprise. For the past few years, I have struggled with my fingertips going numb when I am cold. Even a trip to an air-conditioned grocery store in the summer would trigger the numbness. To the best of my knowledge, this would typically be diagnosed as Raynaud's Disease, and I never knew what to do about it. A few weeks ago, I realized that I have not had the numb sensation in my fingers at all this winter. I fully believe it is due to my body having better alignment from regular adjustments. I look forward to greater health and more surprises during my remaining time of treatment. Thank you, Dr. Dave! And thank you to my front desk friends at the office. You ladies brighten my day!
-T.H.
The Entire Team at HFC is Wonderful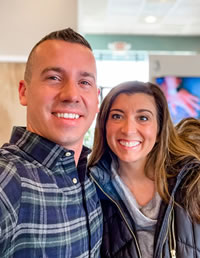 I started chiropractic care due to back/neck pain. I'm not sure what initially caused the pain…stress (well because 2020 ), years of carrying my 2 boys, and poor posture. I wasn't able to exercise, run around with my 2 boys, my anxiety was high and my overall mood was terrible due to being in pain and not getting a good night's sleep. I went to the doctor and she suggested physical therapy or chiropractic care. I like to try and take a more natural approach whenever possible rather than go the medication route. I'm so thankful I chose to start chiropractic care because now I barely have any back/neck pain, I have fewer headaches, I'm sleeping better at night, I can exercise again, and keep up with my 2 boys and I feel more like myself again. THANK YOU, THANK YOU, THANK YOU!!! The entire team at HFC is wonderful. They always greet you with a smile, are super friendly, and genuinely care about your personal well-being. The office is beautiful and very welcoming as well.
-A.P.
The Team At Hanson is AMAZING!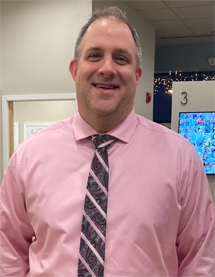 I started treatment because of living with constant tightness and random sharp lower back pain for several years. Yoga stretching was only mildly and inconsistently helpful. I felt like years of contact sports and weight lifting had just taken its toll on my body, and this was the way it was going to be. After seeing Dr. Dave for a month, I had already noticed a dramatic difference in how much better I was moving and experiencing almost no discomfort. I was sleeping more soundly, had more energy, and didn't feel pain when playing with my young son. It was amazing! After 5 months, I honestly feel the best I've felt since my 20's! The team at Hanson is amazing! Everyone is so friendly and they treat every person like family. Dr. Dave has such an awesome demeanor and wonderful way of explaining things in an easy way to understand. My whole family gets treated at the practice, and we genuinely look forward to our visits!
-S.C.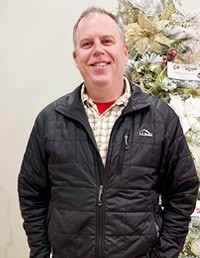 I've Become A Believer
I think I started going to a chiropractor after one of my marathon races. There was no particular injury or anything- just maintenance. Other than having my hips realigned whenever I get adjusted, the biggest improvement I've realized is that I don't get my typical bi-annual sinus infections while I'm getting regular adjustments. I checked with my doctor this past spring and he told me I hadn't been to see him in over 3 years for a sinus infection. Everyone at HFC is incredibly friendly. The office is a warm and fun environment. I've become a believer that regular chiropractic care is beneficial to one's overall health.
-D.D.
Unparalleled In Terms Of Their True Care For Patients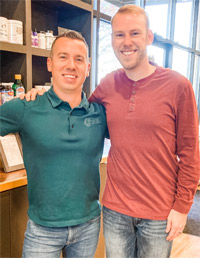 I work a desk job sitting at a computer, and about 2 years ago I started noticing increasing pain and discomfort in my neck. After stressful or intense days, I would notice it was a lot worse and definitely connected it to positioning and posture with sitting at a laptop all day. I would try to massage my neck throughout the day and stretch it out, which would relieve some of the pain momentarily, but it never lasted. Eventually, it got so bad that I had to do something about it and I started going to a "one and done" chiropractor I had seen in a billboard. This helped a bit, but the care was quite generic and routine.
Since starting Chiropractic this year at Hanson, my neck pain isn't even a thought anymore, but the level of intentional care I've received and other side effects have been so unexpected! I definitely sleep better than I used to, I feel overall more relaxed, and I'm encouraged to adjust my posture throughout the day which of course addresses the root issue of my pain. In addition, through the scanning, Dr. Hanson has been able to show me how my body is responding to my lifestyle and the adjustments. He showed me that my lower back muscles had been unactivated (again due to constant sitting at a desk) and needed strengthening. Through adjustments and my own work, I've felt strengthening there, which trickles down to many other benefits.
Dr. Hanson and the team are unparalleled in terms of their true care for patients. The thoughtfulness and connection in patients' lives is not something you would even look for from a chiropractic office, but it's the trait that makes them truly stand out among the rest!
-A.P.
Always Lots of Fun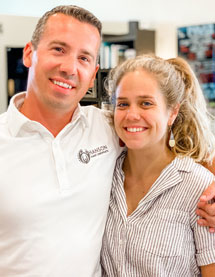 Mental health has always been a struggle for me. I hit a point where I wanted to try anything that would help relieve it. Chiropractic came up when I was doing research and the science behind it made me interested. I also was interested in practicing yoga. I wanted my body to run efficiently! I have been on medication/antidepressants since I was 17 and my goal is to get off them completely, if possible. I know chiropractic care is helping me get there and I have already seen the results! Overall I am a happier Lexi. With the help of chiropractic care my body and mind have never worked better together. It felt like my fight or flight state was taking over control for years and I felt trapped.
Since having consistent chiro care in my life I feel more in control and have overall more peace within! I can step back from the anxieties and rationalize with them easier than ever before. I know I am on the path to an even more stress free life! My love for the team at Hanson Family is beyond words. I've never felt more welcomed and appreciated. It doesn't feel like a doctors office, the plants, pictures and atmosphere helps me feel at home. Everyone knows me by name, greets me with smiles and it is always lots of fun!
-L.B.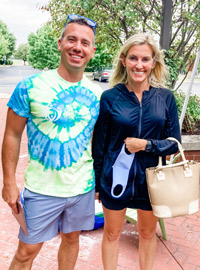 Feel My Best!
I had sudden severe neck pain that was preventing me from basic daily tasks. I couldn't run, sleep, or even hold my children. In the past taking OTC pain killers helped me, but this time it was too severe. After the first 2 weeks of care I started to feel normal again and my mental clarity improved greatly. My stress hasn't completely gone away, but my body is handling it better than ever! I have also noticed my sinuses are very clear. The entire team at Hanson makes an effort to get to know you and truly want to help me feel my best!
-T.C.
Part of the HFC family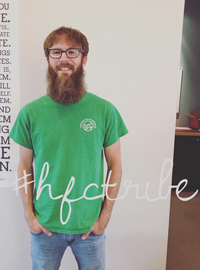 When my wife first approached me with the idea of seeing a chiropractor as a family, I'll be the first admit I was slightly skeptical. During our first sit down with Dr. Dave, I said "I feel fine! No complaints here!" (typical Dad response). Fast forward to the first scan results: I needed the most help. We discovered that a soccer injury from almost 15 years ago was affecting my lower back and hips in a pretty big way. And not to forget, all of those soccer headers over the years had really done a number on my neck.
Chiropractic care has been an ABSOLUTE GAME CHANGER for our family. When I would come home from a long day of work, I would take ibuprofen or tylenol to help with any back/neck pain. I haven't had to do that since starting care!
In the past, I dealt with seasonal allergies, especially in the spring. I am happy to report I have had little to no symptoms this year. I can BREATHE! My posture as also greatly improved.
Our family can't compliment Dr. Dave and his team enough! They are all so welcoming and make you feel like you're part of the HFC family. During treatment sessions, Dr. Dave often utilizes a technique that essentially is a big ol' hug. I felt the need to awkwardly name it 'The Embrace.' Ask for 'The Embrace' next time you're there! It's pretty great!
-R.B.
The Entire Team is WONDERFUL.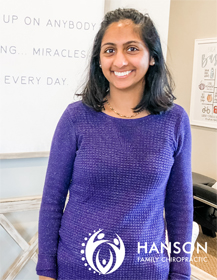 "I started care because I've had back pain since starting my career as a dentist 5 years ago. I used to get massages every month in order to help, and usually by week 3, I knew I needed another massage soon. It was affecting my work because after a dental procedure I would be sore for the rest of the day. My back and neck were constantly in a state of pain.
Since starting my care, I am no longer in pain. I didn't think I'd ever be able to say that!!! I have not had a massage in 3 months, and I am not needing it to preserve my back and neck anymore. I am able to work and not be sore, even with difficult procedures.
The entire team is WONDERFUL. They make you feel like old friends. They are always so accommodating when it comes to scheduling. My husband recently pulled his back and they were able to get him in for a scan that same day, and in for an adjustment within a few days. My husband has also told me that since starting adjustments (he's only had a few so far) he's already feeling so much better".
-A.S.
Always Available to Answer Questions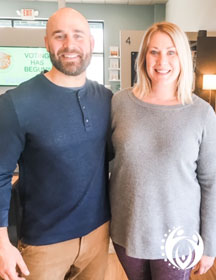 After I had my kids, my hips really started bothering me. I was having trouble sleeping with my hip pain. Then within the past year my upper back has been very tense causing me to be uncomfortable throughout the day and also I was getting more headaches. I have tried stretching at home, yoga, exercise, etc. All of these helped but didn't "fix" the problem. I tried chiropractic care one other time, but just could not commit to the time.
When I decided to come to HFC I committed to myself that I would follow through. I have noticed much less pain in my upper shoulder/back area. I have also noticed improved posture. My hips are still adjusting due to being so bad beforehand, but I can feel a difference after each adjustment. I have also been doing stretches that were recommended to me by Dr. Hopper. I have never met a staff as friendly as the staff at HFC. They are welcoming, kind, and always available to answer questions.
-J.F.

Adult Success Stories for Hanson Family Chiropractic | (630) 230-6416