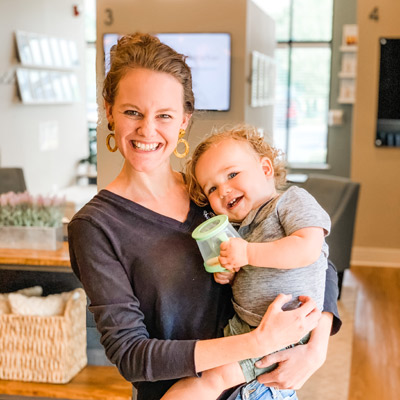 New Patients
At Hanson Family Chiropractic, it's important to us that you feel right at home. Dr. Dave Hanson and his team would like to welcome you to our beautiful, family-friendly space where you'll enjoy a positive, first-class healing experience. Voted Kane County's Best Chiropractor for the past five years, we're committed to providing you with hope, answers and help! Chiropractic care is unlike anything you've tried before, and we can't wait to get started!
Your initial office visit includes:
A full history
A consultation and physical exam
A full spinal and nerve scan
Initial report of findings
Click the button below to schedule your appointment with Hanson Family Chiropractic! We look forward to meeting you!
The New Patient Experience
We're ready to answer any questions you have and get you scheduled for your first two visits. This is a laid-back, fun, no pressure, heart-to-heart conversation between you and our oh-so friendly front desk team. They'll get you all set with paperwork, too. Please have this completed prior to your first visit.
You'll be greeted with a smile. A member of our front desk team will give you a quick office tour and escort you to the exam room. The purpose of this visit is to make you comfortable and get to know you. You'll meet with Dr. Hanson to discuss your history and concerns. An examination will be performed, including scans with the INSiGHT™ Subluxation Station.
When you return, you'll sit down with Dr. Hanson to look over his recommendations for your care and answer any lingering questions you might have. A member of our front desk team will also share the financial options with you. If you're ready to get started, we'll give you your first chiropractic adjustment that day. Yes!
Why Two Visits?
We use two visits for our new patient process to ensure that you get a care plan specific to you. Dr. Hanson will go over your scans and exam findings, then process all that information to determine how best to get you the results you're looking for. There is no given template for our patients- instead, everything is individualized to you.
We'll Follow Your Lead
Some people are nervous about visiting the chiropractor. It's understandable! You don't know exactly what to expect. Know that we will do everything we can to put you at ease. The doctor will walk you through each step of the way making sure you feel comfortable.
If you're concerned about your first adjustment, that's okay! Know that even people who felt uncertain at first are so happy with how they feel afterward. Many even tell us they wish they had started sooner. We use a gentle touch, particularly with our pediatric patients.
Let's talk about the benefits of chiropractic for your family. Contact us today!
CONTACT US

New Patients | (630) 230-6416