Big Kids Success Stories 2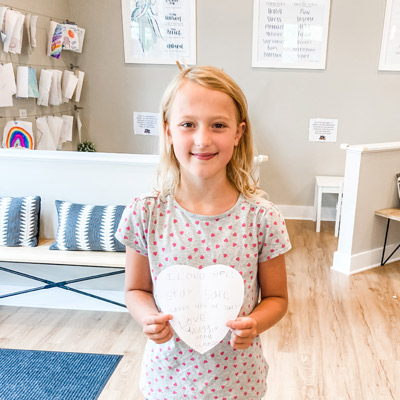 What Our Patients Say
We are PROUD of our patients and the progress they make while under our care. There's nothing we enjoy more than CELEBRATING our patients' successes along with them. And when there's something good happening in our lives, we feel inclined to share it with others, right? Using personal stories to share the power of chiropractic with others is one of the most valuable tools our practice can use to encourage others to give chiropractic a try – a decision that can be life-changing! We love sharing pictures and stories of our patients in the interest of showing others that real people are getting great results here at Hanson Family Chiropractic. Has Hanson Family Chiropractic made a difference in your life? We'd love to hear about it! Please share your story with us.


Our son is happier, more relaxed, calmer, and with a significantly improved attention span – NeuroStorm Success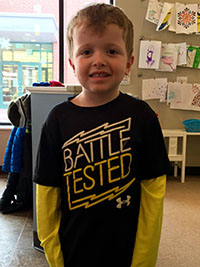 "Our son started chiropractic care because he was struggling with sensory and attention issues that were causing a lot of problems with learning, at school, socially, and especially with risk-taking and self-control. We had him in numerous therapies including OT, speech, Feldenkrais, sensory pool class and more, but although he made some progress, the risk-taking continued to be serious enough for both his neurologist and neuropsychologist to strongly recommend medication. We really didn't want to put him on medication. Although we didn't believe in chiropractors before Dr. Dave, we were willing to try almost anything to avoid medication. Our son has improved dramatically over the past several months! He is happier, more relaxed, calmer, and with a significantly improved attention span. In a meeting, the school stated that they don't even think he has ADHD. He was in a self-contained special education class of 7 children with 5 teachers and aides, and now is in a mainstream class with 22 children and 2 teachers. He is a joy to be with and is forming close friendships. His academic work is now at or ahead of grade level because he's calm enough to learn. Our family can now enjoy outings together without worry, and the trajectory of his life has changed because he's in control of himself. My sons love coming to Dr. Dave's office. He and his staff are so much fun and they make the environment welcoming for children. My kids love the play area. We're grateful to Dr. Dave for helping our son, and for helping our whole family!" -Mom & Dad
Does this sound like your child? Click here watch our NeuroStorm Virtual Workshop. We'd love to support your family!
Dr. Dave, our hero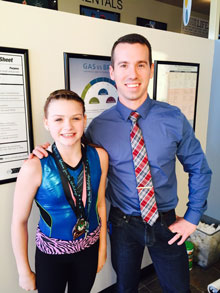 "My daughter Olivia is 12. She began experiencing very painful headaches in March 2014. She would miss 3 days of school at a time because of the pain. She had many doctor visits. First, her pediatrician, ENT, 2 neurologists neurosurgeon, and ophthalmologist. She had 2 months of Physical Therapy, 3 MRIs, Sinus X-rays, neurology exams, and blood tests. She has been through a lot of doctors and tests!! The neurologist put her on a preventative medication that started at once a day and then gradually had to be increased to 3 doses a day. This still did not get rid of the headaches completely. She is a gymnast and would practice in the gym 4 days a week. She had to give up gymnastics for 4 entire months. She could not work out in the gym or practice her skills with her head throbbing. Finally, we were referred to Dr. Dave, our hero!! He was referred to us by Olivia's gymnastics Coach Doug. I am so happy to have met Dr. Dave. He has changed Olivia's life. After our first visit, Dr. Dave was confident he could help Olivia. I was so happy to hear that you can't even imagine!!! We have been through so many doctors and treatments and nothing was working. I was beginning to think that Olivia would never live a normal happy life again. After seeing Dr. Dave, her headaches seem to become less frequent and then disappeared!!!! Olivia is medicine free also!! Olivia is back competing gymnastics and has qualified for State for Level 6 at her second meet. She has gotten medals for placing. She did so well at her meets that she moved up to Level 7 mid season!! We are all so happy Dr. Dave came into our lives. All of my children now see Dr. Dave and are happy healthy kids. We love Hanson Family Chiropractic!!" -L.B.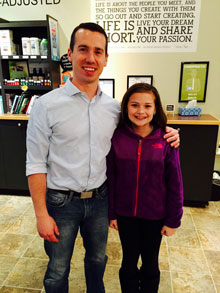 Such a happier child
"My daughter Ava is 11. She has always had problems with constipation. Ever since she was a small baby and I was breastfeeding her, she would be constipated. We would visit the doctor and we try over the counter products, foods, Karo syrup. Nothing worked. This has been happening her entire life. Well, we met Dr. Dave and Ava has a new life!!! She no longer complains of a tummy ache. She is no longer doubled over in pain and crying from her constipation. She is regular and is such a happier child. Dr. Dave was referred to us by our other daughter Olivia's gymnastics Coach Doug. We are so happy to have been introduced to Dr. Dave. We love Hanson Family Chiropractic!" -L.B.
Never Been to a Chiropractor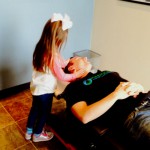 "Having never been to a chiropractor before, Dr. Hanson was very informative and knowledgeable about explaining how chiropractic care works. He and his staff are very friendly, patient with children, and explain everything they are doing. They care about their patients, listen, and follow up to see how you are doing. We have been very pleased with Dr. Hanson." -A.N.
No more injury
"I sought out the care of a chiropractor because of a neck injury. The office has a friendly and comfortable feeling as you enter. Others would feel the same. Dr. Hanson and staff are extremely friendly and make you feel very comfortable and welcome. Dr. Hanson is very clear and specific. He is very easy to talk to and when you ask questions, he takes the time to answer you and make sure you understand. Great rapport! Awesome rapport! For those that are hesitant to be 'cracked,' adjustments are fine. Dr. Hanson is understanding and gentle knowing I don't like to be 'cracked,' but I feel great and can return to normal activity. No more injury! The result I felt immediately was my neck pain was less intense than before I started treatment. Over time, I felt great-no more injury and I have more neck mobility! The overall quality of care is excellent. I would absolutely recommend Hanson Family Chiropractic to my family and friends." -T.M.
Hasn't been sick since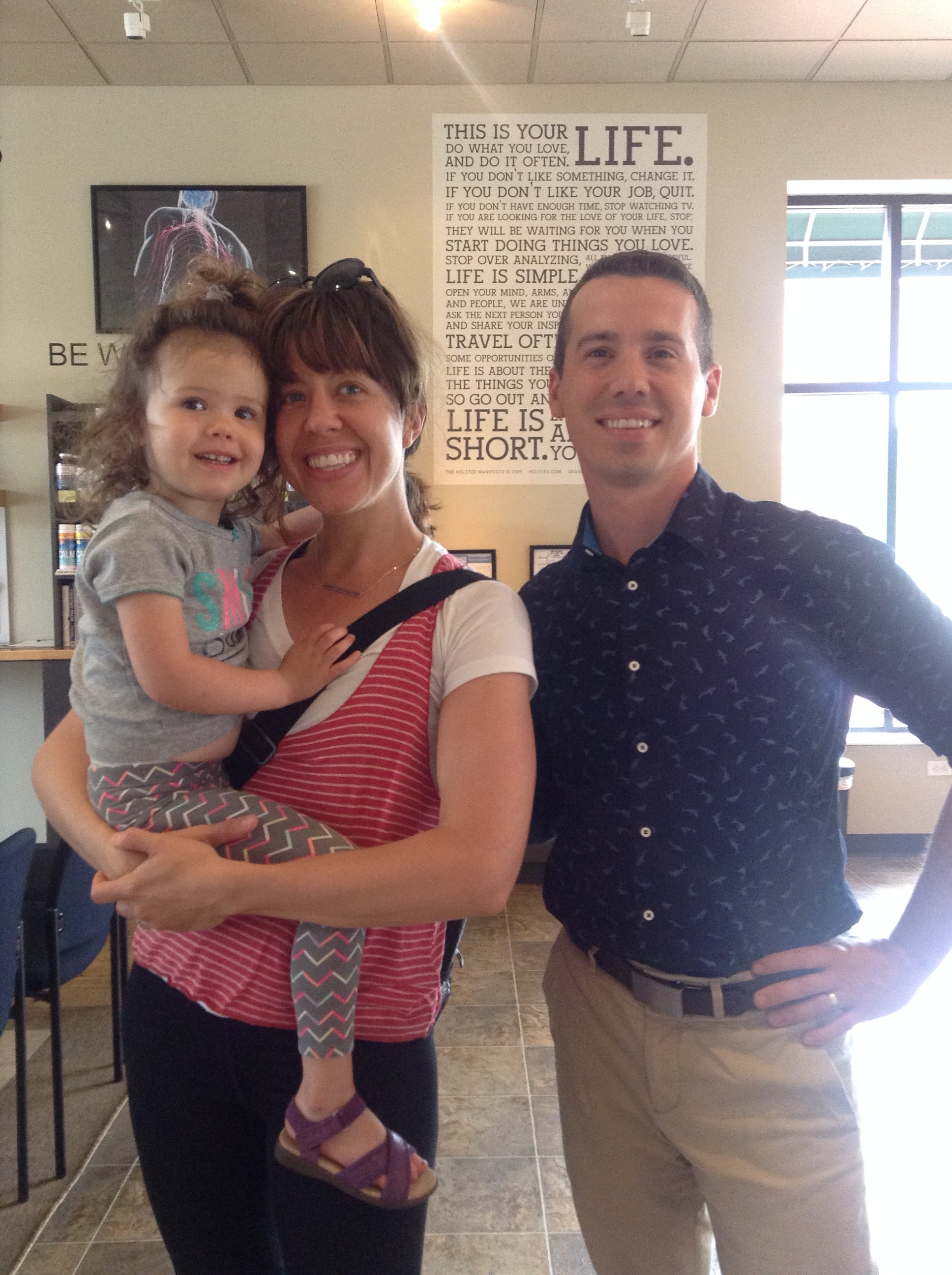 "My daughter, Brooklyn, was just one where I wanted to get her analyzed just to see results. Nothing was particularly 'wrong.' Based on her scan results, I felt that eventually giving her chiropractic treatment was a great solution. However, before I did, I took the time the think because it was so new to me and I was nervous. Then, my daughter got 4 ear infections and was sick nonstop for a period of 4 months. I did a couple of rounds of antibiotics for the ear infections and knew I didn't want to make a habit of that. We tried so many preventive methods to keep her healthy. I tried homeopathic remedies. Nothing worked and her ears weren't draining. Brooklyn was missing school, her sleep was affected, and she was constantly congested. She just wasn't happy and she was sick literally every other week. I took her in to see Dr. Dave after seeing an ENT. I was apprehensive at first. It was all new to me. Plus Dr. Dave is so young that I wondered how experienced he was. I did feel comfortable with him though, so he stayed in my mind from the initial visit until I came back saying 'Help!' later on. My daughter loves him, loves his demeanor and gets excited to see him. I've realized his experience is stellar and his youth is actually a benefit. After starting chiropractic, Brooklyn's congestion cleared up almost immediately, sleep improved and she hasn't been sick since!" -M.M.
Great Improvements With Sleep
"My daughter was having a hard-time focusing or slowing her body down. It was getting harder for her to focus as she moved up in school. She was also having a hard time falling asleep. Since Izzie started getting adjusted, she sleeps better, is calmer, and has been healthier. Dr. Dave is very patient and listens well. He didn't push us into any choices, but his confidence in the approach helped. It took a few weeks until we saw changes, but then it was great improvements." -M.D.
Showing Progress Across the Board – NeuroStorm Success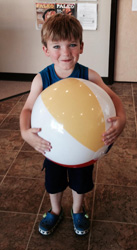 "Our family looked into chiropractic care after our OT suggested it and after attending the ADHD workshop Dr. Dave presented at his office. My husband and I had many "ah-ha" Emmett moments during his presentation. We had long known Emmett's behavior and attention suffered due to sleep apnea. He had his adenoids removed and tubes in his ears at 20 months old. While we saw some improvements following the surgery, the benefits waned as Emmett grew. His attention and fine motor issues became the focus as he started attending preschool full time. At age 4, Emmett started attending private OT sessions at My Recess Inc. and a social group at Riverview Counseling Services, Ltd. While both of these helped immensely with his focus and motor skills, Emmett still struggled to consistently show progress. After receiving chiropractic care, Emmett sleeps soundly each night, and he wakes rested in the morning! We have also seen a huge change in his ability to process situations that make him frustrated or upset. We are able to talk through his frustration much more easily. Emmett now shows consistent progress with all therapists as well! He has made so much progress that he only sees his therapists bi-monthly! Dr. Dave and his team are amazing! They are all personable, caring and knowledgeable. The organized way Dr. Dave personalizes each patient's care is THE reason so many patients see success! The place is remarkable!" -R.L.
Does this sound like your child? Click here watch our NeuroStorm Virtual Workshop. We'd love to support your family!
Pinched nerve has resolved!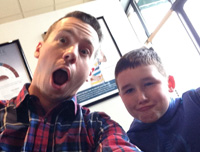 "We started chiropractic care for Liam because of a pinched nerve in his neck. Liam is active in sports and we aren't sure what caused it. The pinched nerve made sports difficult and even bothered him when he slept. It has not been an issue at all since starting chiropractic care! Dr. Dave is very professional and his staff is very helpful. Dr. Dave is fantastic with the care of our son!" -B.D.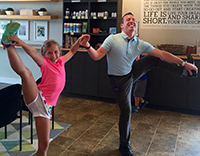 My Flexibility has Improved!
"My back used to hurt and so did my shoulders. I was always asking my mom for back rubs. Now, I barely ever do it! In dance class, I have improved a lot with my flexibility." -M.M.

Pediatric Success Stories for Hanson Family Chiropractic | (630) 230-6416